Engineered board or laminate are two of the most popular, beautiful and versatile types of flooring. This is where their similarity ends. The difference lies in the raw materials used. There are 5 different criteria to help you make a choice.
The content of the article:
General characteristics of the engineering board

General characteristics of the laminate

Parameters for comparing materials

Environmental friendliness

terms of Use

Care

Durability

Mounting method
General characteristics of the engineering board
A parquet or engineered board with a lock is a multilayer material, a kind of improved substitute for natural wood. It looks like solid wood. It surpasses it in terms of technical characteristics. Therefore, the massive board is gradually losing its position and leaving the market.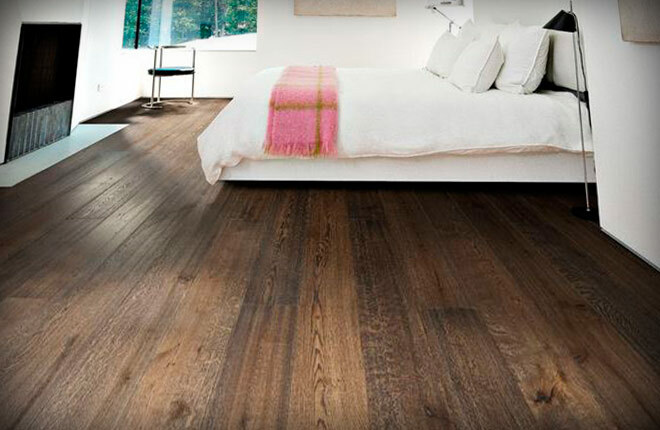 The engineering board has two layers. The lower one is a stabilizing base, it occupies ¾ of the thickness. Made of high quality plywood, with internal and external cuts. These are several sheets glued together. In this case, the direction of the fibers alternates. The upper ¼ part is solid wood. This design is resistant to mechanical stress, fluctuations in temperature and humidity.
This is interesting!What is the difference between parquet and laminate. Floor coverings and quartz vinyl tiles. What is better to choose plywood or OSB for the floor.
General characteristics of the laminate
The main differences from the engineered board is that the laminate consists of dry-manufactured monostructural or wood-fiber boards. Medium and high density fiberboard is used. Lined with a film made on the basis of thermosetting polymers.
Laminate got its name from the word "lamination" - a method of connecting several layers. This is the bottom stabilizing layer, then the main plate, equipped with a locking connection. The upper decorative part with a woodgrain pattern is covered with a protective layer. Despite its appearance, laminate is a synthetic flooring.
The base is made of paper or cardboard. For durability and protection against moisture, they are impregnated with synthetic resin. The supporting structure can be made of MDF (it is light, medium density, low strength) or HDF (it is a heavy and dense, more durable material). Decorative finish - paper in a cheap laminate, natural veneer in a quality product. The coating is a film of polymer resins.
Parameters for comparing materials
The engineering board is laid in exclusive and elite interiors, as well as in rooms with increased pedestrian traffic. A large selection allows you to use different layout options. The variety of design solutions - choose the type of protective coating. Depending on the thickness, there is the possibility of local restoration, repeated grinding.
Laminate is used in any room. You should pay attention to the marking and class for rooms with high humidity, temperature, aggressive environment. The popular material is resistant to fading and pollution. Withstands prolonged abrasion and stress. It does not require processing after installation.
Types of coverage

Bearing base

Stabilizing layer

Decorative

Protective

Dimensions mm

Two-layer engineering board

High-strength birch plywood (thickness 6-16 mm)

Oak, ash, walnut (2.5-7 mm)

Lacquer, a mixture of wax and oil

Uncoated, processing is carried out after installation is completed

Length up to 3000

Width 300

Thickness with backing up to 30

Parquet, three-layer engineering board

birch plywood

Perpendicularly laid coniferous or birch boards

Saw cut of valuable species (2-4 mm), tinted, covered with oil, varnish

Laminate

MDF, HDF, plastic for waterproof look

Resin impregnated cardboard

Printed paper

Valuable wood veneer

Overlay - transparent, matte, glossy

Texture imitating wood fibers

Length 1260-1380

Width 90-330

Thickness 6-12
Environmental friendliness
High-quality floor covering during operation should not emit harmful substances. This is the essence of environmental friendliness of materials. Natural raw materials means that all its components are of natural origin and do not have chemical additives.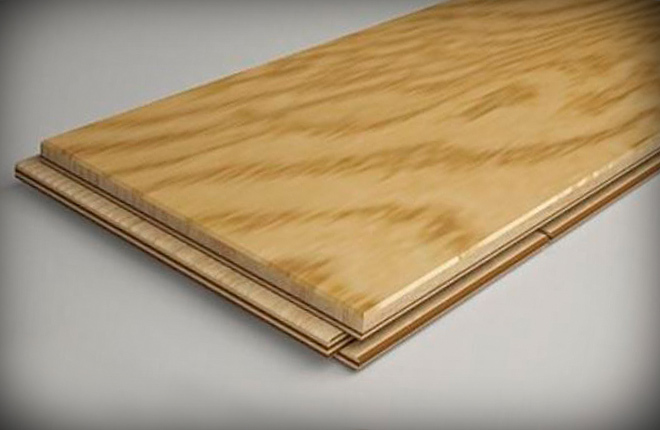 The engineering board is made of natural materials. When heated, there are no harmful fumes. But do not forget that phenol is included in the glue for plywood. Therefore, environmental cleanliness depends on the manufacturer. Namely - on the quality of glue, oil and paints and varnishes for processing the top layer.
Laminate is made from pressed wood waste, which is considered a natural raw material. For bonding, melamine or acrylic resin is used, which includes formaldehyde. This substance harmful to human health is released when the laminate is heated above 40 °. Especially dangerous at high concentrations.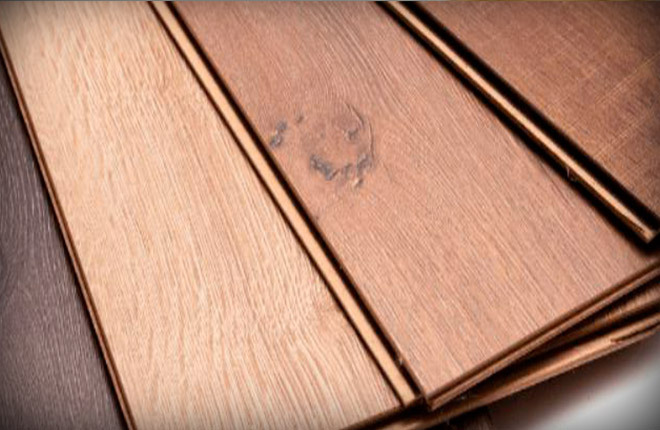 Formaldehyde is present in small amounts in natural wood. It gives it the smell of wood. According to European standards, there are the following environmental classes:
E1 - the allowable amount of formaldehyde resins is not more than 0.125 mg per m

3

;

E2 - from 0.125 to 1.25;

E3 - from 1.25 to 2.87.
In Europe, the release of products of the third class is prohibited. Now the E0 class is under development. A high-quality laminate has an emission of no more than E1. Certified manufacturers are moving to E0 standards.
terms of Use
An engineering board is preferable to use in large rooms. She is not afraid of temperature changes. It can be laid both on a warm floor and on a closed veranda, in the corridor. The coating of the engineered board is not moisture resistant. Therefore, it is not suitable for the bathroom and kitchen.
Laminate in this regard is more resistant to temperature, humidity, does not ignite (symbol "B" on the package), and is not subject to fading. According to the level of endurance is divided into classes. Depending on the quality of raw materials, it is used for home or industrial premises.
This is useful!Is it possible to lay laminate on old parquet.
Care
The engineering board requires periodic cleaning. It can be swept and vacuumed. Regular wet cleaning with a soft cloth is required, without the formation of puddles. To prevent scratches, dents, walk on the floor in soft shoes or slippers.
Laminate is easy to maintain. In this regard, he is a leader among finishing materials. If there is no dirt and persistent stains, it is enough to wash the floor with warm water. To keep the shine, the water should be changed more often. You can add a little table 9% vinegar. For care, you can not use bleach, products containing acids and alkalis.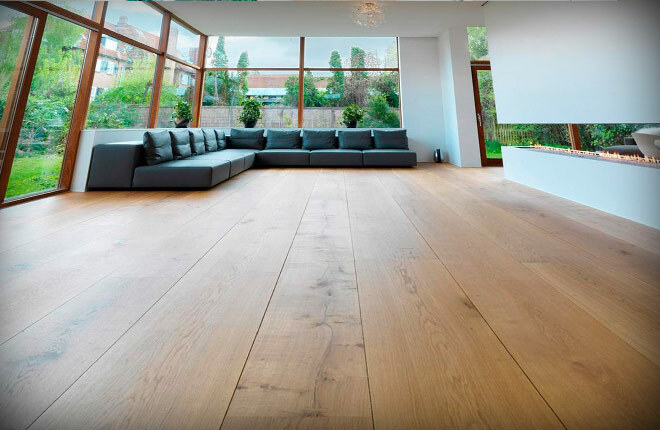 Durability
The service life of an engineering board lasts from 20 to 40 years. The thicker the upper decorative layer, the more times the floor can be restored - scraped, oiled, varnished.
The most wear-resistant laminate 32 class. It can last from 15-20 years, if all the rules for care are followed. Usually it has to be replaced after 5-8 years. It deteriorates when liquid penetrates through the joints.
Mounting method
There are several ways to lay an engineered board. This is the connection of modules into a lock, installation on glue, a mixed version. There are several types of styling - curly, deck, squares, herringbone. And although the installation process is complicated, you can handle it on your own.
Laminate mount castle way. It can be placed on any base. The old can not be removed if it does not have drops and damage. The substrate is pre-installed.
But the most common way is direct. Installation is carried out from the window. Also used laying herringbone, stripes, diagonally.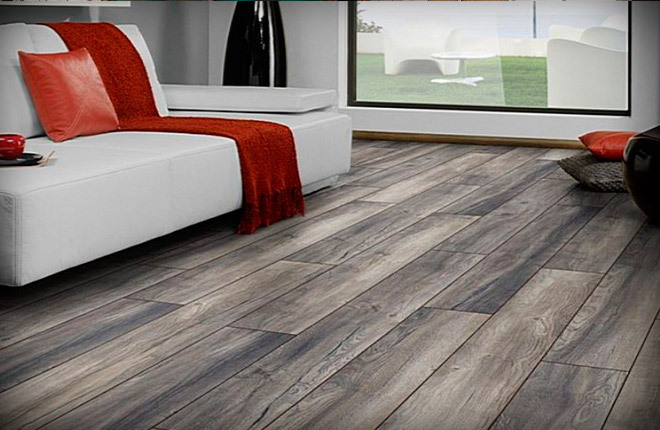 To the question of what is better to choose for the floor - an engineering board or a laminate, there can be no unequivocal answer. It is necessary to be guided by the technical characteristics, take into account all the pros and cons of the material, based on their financial capabilities, get acquainted with the manufacturers, check the certificates of conformity quality.
This will come in handy!How to lay linoleum on old parquet. Floor leveling with plywood on an old wooden floor.
What type of flooring do you prefer? Leave a comment, share the article on social networks, bookmark it.