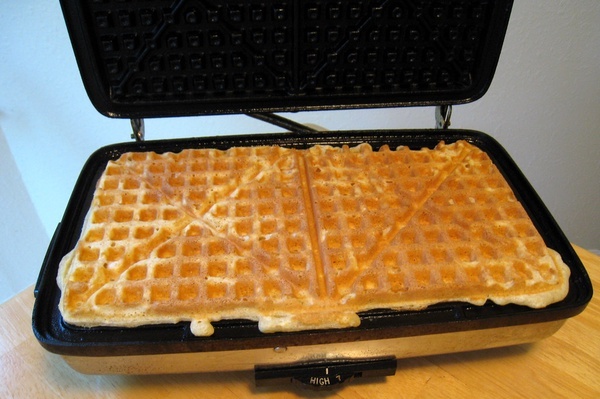 creativecommons.org
A waffle maker is the best device to please your loved ones with delicious and beautiful waffles, many times better than restaurant and store ones. The design of the device is simple to the point of impossibility: only two heating elements connected by a latch. Outside, the tiles are covered with lids. Both a non-professional culinary specialist and a small child can manage the best waffle iron - everyone wants tasty treats!
With the help of a waffle iron, you can bake a wide variety of shapes and sizes of products (smilies, circles, squares or ordinary Belgian ones). It is also important that homemade desserts do not contain harmful preservatives and chemical additives. The purpose of our article is to talk about which waffle irons are the best and what you should put in your home. Let's start!
The content of the article
Overview of waffle irons for the home - criteria for choosing equipment

Type of device depending on baking

Power

What are top waffle makers made of?

Device dimensions

Important Features

Rating of the best electric waffle irons

Smile WM 3607

Kitfort KT-1620

Jardeko JD768

Jarkoff JK-102

Clatronic WA 3491

Waffle Maker Party Time 187

Saturn ST-EC0152

Maxwell MW-1571

Maxwell MW-1571SR

Kitfort KT-1624
Overview of waffle irons for the home - criteria for choosing equipment
Below are the main indicators by which you can choose a waffle iron for thick and thin products:
Class
Professional - top waffle maker for baking large volumes in one go. Such a device can deal with both waffles and tubes for fillings. Professional equipment differs in price from the usual one by several times.
Amateur - a compact device that produces 1-2 wafers per cycle. The most common household appliance.
Bakery
Depending on the type, waffles are divided into:
 American (standard) - round or square products, distinguished by thin dough and crunch. Basically, waffles are used for tubes or ice cream cones;
Belgian / Viennese - dense and soft pastries of various shapes. They are also divided into several types, but it is not necessary to know this. You will have enough basic information to understand.
In some models from the rating of waffle irons, you can bake nuts for condensed milk, panini and sandwiches - buy such an apparatus if you want to cook such dishes.
Type of device depending on baking
We have already talked about what kind of waffles you can bake. The design of the equipment also depends on this:
 for American - a shallow cell into which a thin layer of dough is placed;
for Belgian - deep tiles for baking, the presence of several nozzles in shape and type.
Let us immediately denote that waffle irons from the rating are designed for only one type of product. To have both thick and thin waffles, both options are purchased at once.
How many pieces at a time
An important parameter that will indicate to you the speed of work and the volume of baking. The average for home devices is 1-2 per cycle. For nuts, this can be up to 10 or more at a time.
Power
The main option on which all further work and the speed of the waffle iron depends. Powerful devices are able to cook 2 waffles in 1-2 minutes (this is bought in restaurants and cafes, where there is a large flow of visitors), and for amateur devices, 5 minutes is enough for 2-4 waffles.
The power of the best electric waffle irons can range from 450-1600 watts. The greater the power, the more electricity it consumes and the higher the price. For use at home a couple of times a week, an indicator of 700-800 watts is enough.
For large companies or your own business, purchase a model from 1000 watts. Professionals should not save on a waffle iron and it is better to immediately take from 1500 W and for several departments.
What are top waffle makers made of?
Housing (covers)
Plastic is cheap and not strong enough. In terms of design, the devices outperform the rest, but not in terms of quality. For very budget devices, excessive overheating and melting of the case is possible - be careful and choose the right one!
Metal is a heavy and expensive material that is suitable for a professional. The body can be matte or glossy. Choose matte - does not leave fingerprints on the case.
Plates
Heating tiles must be exclusively made of metal.
Device dimensions
The amount of work depends on this parameter. For home cooking, a small waffle iron is enough, which will be convenient to store in the closet. Professional models are distinguished by their large size, because they are installed directly on the kitchen surface, and you do not need to clean it.
If you want to treat yourself to delicious waffles 1-2 times a week, why do you need a large appliance?
Important Features
Overheating protection - automatic shutdown of the device when a critical temperature is reached. An essential option for any waffle maker.
Waffles + nuts + grill - such waffle irons have several interchangeable nozzles. The price of the device also depends on this.
Protection against burns - handles should have heat-resistant elements so that it is convenient to take them with your hands and open the lid.
Rating of the best electric waffle irons
We tried to pick up the top of the best waffle makers that are suitable for home and that have the best reviews on the Internet:
Smile WM 3607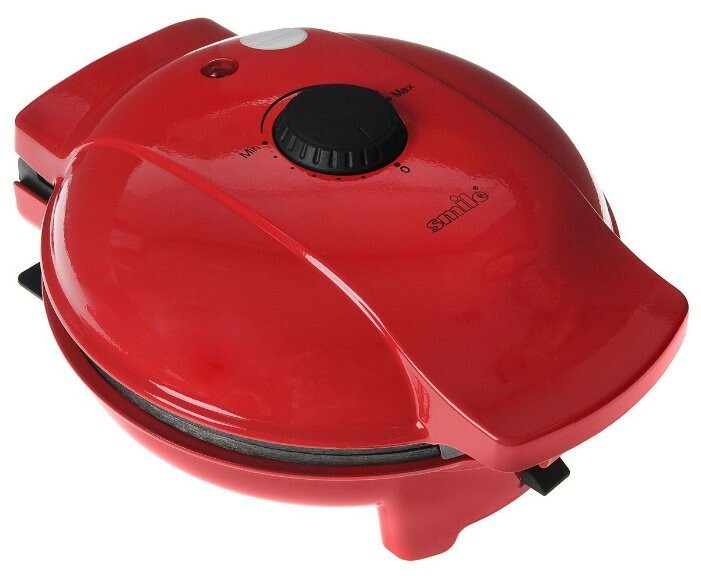 creativecommons.org
One of the best interchangeable nozzles. This waffle maker is versatile in the preparation of thick and thin waffles. It is easy to serve and store in the kitchen. You will receive 3 nozzles in the kit.
Advantages:
does not overheat;
performance indicators;
the best power for home use is 750 watts.
Kitfort KT-1620
Another representative of universal units. Included in both the rating of thick and thin wafers. According to reviews on the Internet, there is a convenient cord, a place for its storage and primitive management.
The furnace has a power of 920 W, equipped with indicators of operation and temperature. The device does not drain excess dough out.
Advantages:
power setting;
tight-fitting plates;
indicators;
compact design.
Jardeko JD768
One of the main competitors of devices with replaceable panels. Can cook up to 4 items at the same time. In addition to the waffle iron, there is a grill function: for this, the lid leans back 180 degrees.
The device is distinguished by its professional performance (power - 1800 W). Not exactly for home use, but you can experiment.
Advantages:
durable iron body;
grill + additional panels;
non-stick coating;
fast food preparation.
Jarkoff JK-102
The ideal ratio of power in 850 W, build quality and price for the preparation of Belgian pastries. According to reviews, the device bakes thick products evenly.
For 1 cycle bakes 5 waffles in the shape of a heart. Cooking speed - no more than 2 minutes. The plastic case did not affect the quality of the parts.
Advantages:
non-stick tiles;
weight not more than 1 kg;
even baking.
Clatronic WA 3491
The German manufacturer tried to release the optimal model for a small price (only 1500 rubles). For a cycle, like the previous version, it bakes 5 delicious waffles. The power of the device is 1200 watts.
Advantages:
necessary indicators for work;
5 waffles per cycle;
non-stick coating;
overheat protection.
Waffle Maker Party Time 187
Stylish model from Italy. The case is stylized as retro, the execution is solid metal. The number of options allows you to cook pastries without much difficulty and tedious waiting.
Advantages:
working indicators;
non-stick plates;
the best power for the home is 700 watts.
Saturn ST-EC0152
This is the best waffle iron for making thin products or tubes. The model has a non-stick coating, which is very important for thin diameters. The waffle iron has a power of 900 W, the optimal number of functions and indicators.
Advantages:
small sizes;
housing made of heat-resistant plastic;
waffles do not stick to the surface;
the handle is protected from heat.
Maxwell MW-1571
Medium waffle iron for baking thin cakes. Products can be used for horns, tubes or making a cake. It is important that the device has a heat-resistant handle and an operating temperature setting.
Advantages:
optimal price-quality;
overheat protection.
Maxwell MW-1571SR
Medium power model - 800 watts. The case is made of plastic and has operation indicators. For cooking, there are 5 baking modes.
Advantages:
cakes do not stick to the stove;
lid lock;
comfortable rubber feet.
Kitfort KT-1624
A waffle maker of a national manufacturer with a high power of 1000 watts. The case is heat-resistant plastic, there are handles protected from heating. Simple operation: two operation indicators and one slider to adjust the temperature. The tiles have a non-stick coating and are able to bake up to 5 products at a time.
Advantages:
classic design;
high power in the budget segment;
case overheating protection.