The modern interior of the living space assumes lightness and comfort. Heavy massive furniture and wardrobes are being replaced by lightweight structures made of plastic and fabric. A striking representative of the new design is a fabric wardrobe.. It is in no way inferior in its properties to ordinary wooden wardrobes. But it has a number of additional advantages over massive furniture.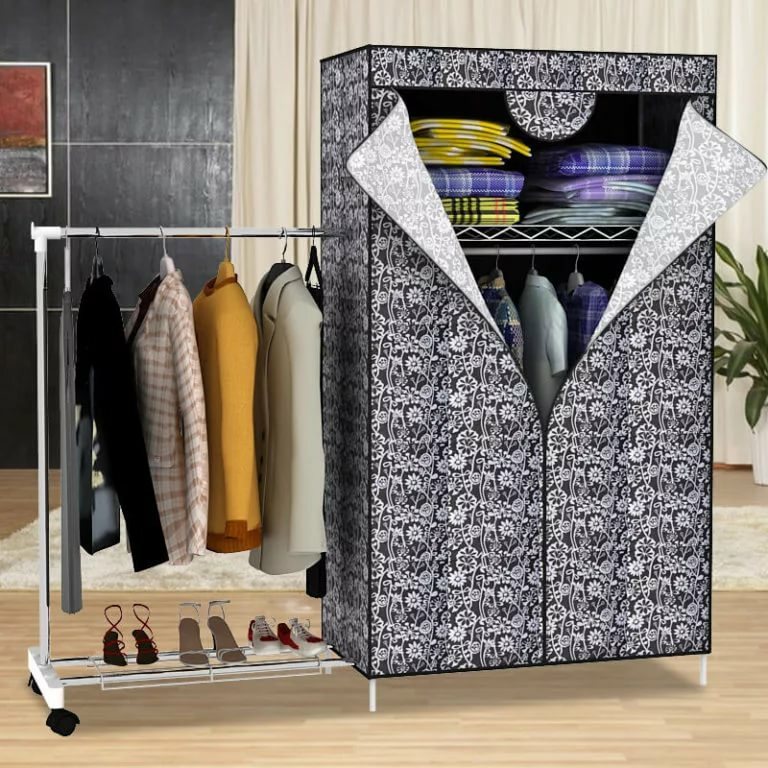 What is a Cloth Cabinet
The content of the article
What is a Cloth Cabinet

Views

Material

How it closes

Advantages and disadvantages
Furniture made of special fabric performs the same function as a standard shelving made of wood, MDF or plastic. It can store various household items, clothes, office supplies and other things.
Cloth cabinets are commonly used as a temporary option. They are great for creating a comfortable stay in a rented apartment or in a dormitory, and also ideal in a nursery, as the furniture there often needs to be changed.
Views
Depending on the nature of storage, there are several types of such furniture.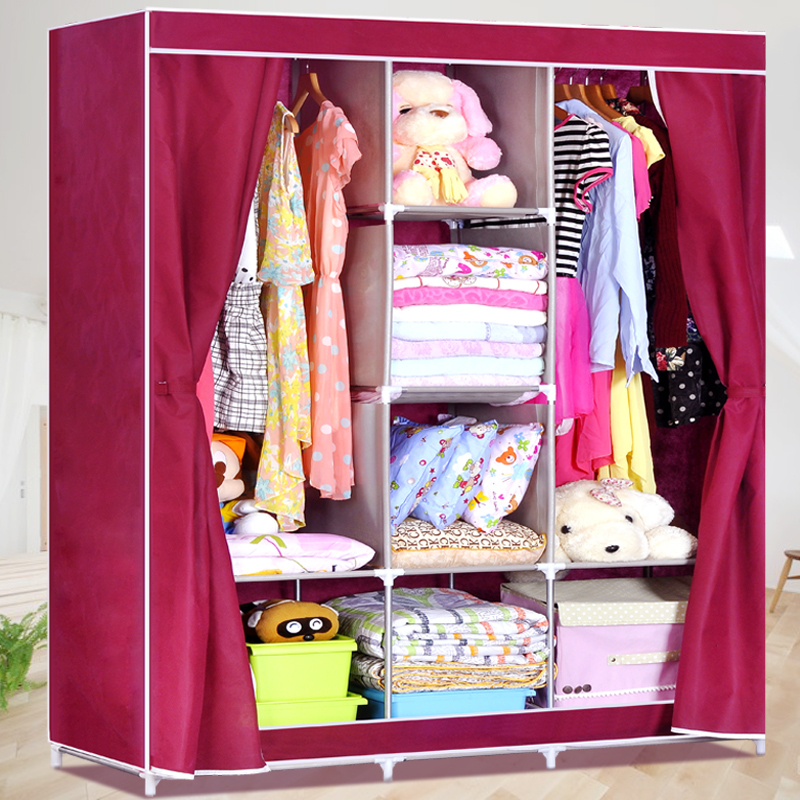 Wardrobe. Designed for storing casual and seasonal clothing. Its peculiarity is the presence of a crossbar for hangers.
For children's room. Bright and printed models. A good idea for storing toys and baby things in the baby's room. The baby will definitely like it and will be absolutely safe for him.
Office shelving. It features a strict style and a large number of medium-sized shelves where you can put papers, folders and various office supplies.
For shoes. Such an item fits perfectly into almost any hallway or will help organize a storage system for seasonal shoes in the dressing room.
Important! The main feature of the fabric wardrobe is its mobility. It can easily move around the apartment if necessary, or it can be disassembled and reassembled in record time.
Material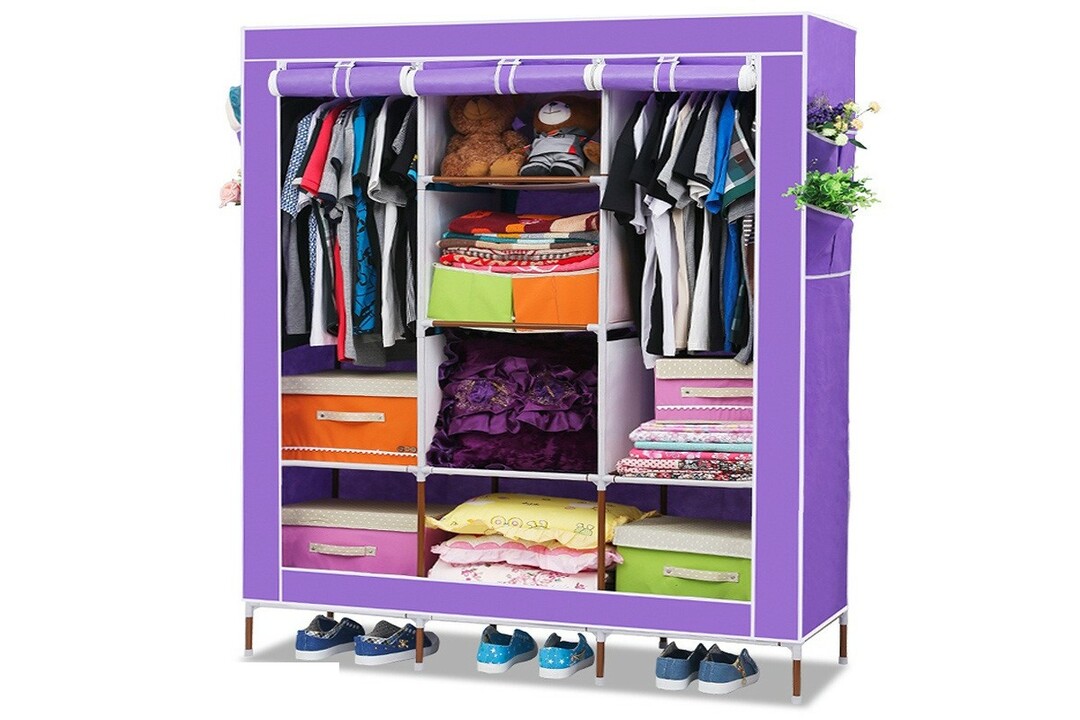 The piece of furniture is made of fabric. This uses various synthetic impregnationsproviding dirt and water repellency. This is especially important for children's shelves, which will be exposed to various contaminants.
By the way, fabric is not the only material present in the composition of such a piece of furniture. The fabric cover is attached to plastic or metal-plastic frame.
Important! Tight hollow tubes keep their shape perfectly and ensure structural reliability.
How it closes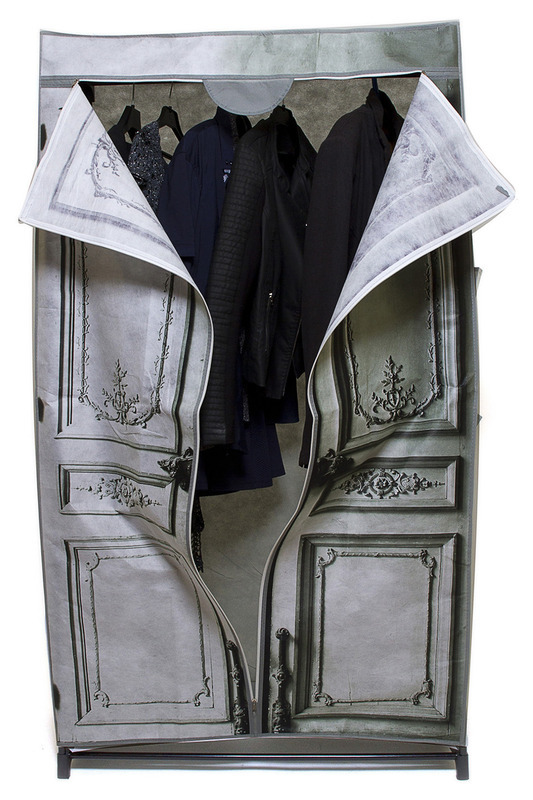 There are several types of cloth cabinets according to the type of closure:
With a zipper. The most convenient and most sealed option.
Velcro. Allows you to quickly get to the things you need, a good option for a children's room.
Drawstring or with curtains. Looks great in a country or summer house.
Completely open. Suitable for use as a display rack for toys or office papers.
Important! The wardrobe does not seal properly. If there are moths in the apartment, it is imperative to protect things from the insect.
The flying pest will not damage the fabric itself, but it will easily penetrate under it, despite the zippers.
Advantages and disadvantages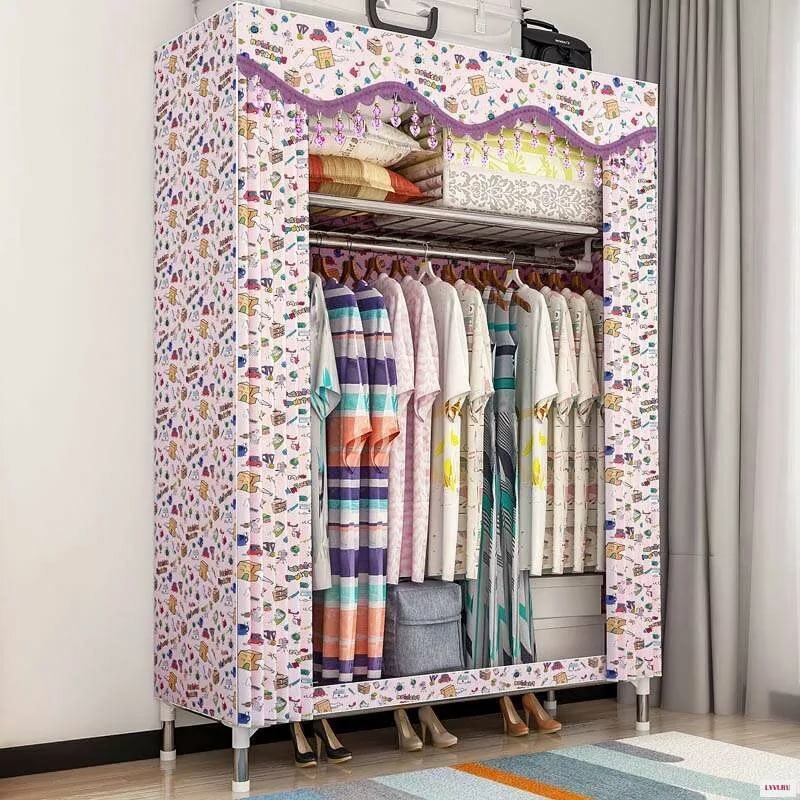 The proliferation of cloth cabinets is ubiquitous today. Many people who do not burden themselves with household chores prefer this lightweight and compact design. The fact is that a fabric rack has a number of advantages over classic wood and MDF products.
Dignity
Such pieces of furniture have many advantages:
Ease of assembly and disassembly. Even a junior schoolchild can cope with the task. The design is very similar to the assembly of a children's designer, only in large volumes.
Compact and lightweight. If you move frequently, this is a great solution. It is easy to disassemble and fit into a small bag, convenient for transportation.
Variety of colors and prints. Thanks to this variety, you can easily choose a product for a specific room and interior.
Ease of care. The fabric cover can be easily removed from the frame. It can be machine washed, it dries quickly and does not lose its original appearance and properties.
Dust and dirt protection. Reliable fasteners and a water-repellent coating help protect things placed in the closet from dust, dirt and other unpleasant surprises.
Low price. In comparison with stationary wooden cabinets, it is very cheap.
Ease of movement. Even when assembled, the structure, freed from things, will easily move around the apartment if you need to rearrange it.
The main advantage of such a cabinet is its multifunctionality. By choosing the right design, you can store a variety of things in it. And the colors and prints, of which there are many, will complement the interior with interesting colors.
Flaws
Among the minuses, only inability to emphasize their status and wealth. That is why fabric products are usually chosen exclusively for temporary housing. In permanent apartments, people often prefer solid structures made of MDF or wood panels.
Subscribe to our Social Networks