Your kitchen renovation is ready, but the sink has not been selected yet? There are many questions, and there is no one to answer them or the explanations boil down to incomprehensible terms that you do not need? Pay attention to the stainless steel sink. Let's find out what they are.
Material and properties of stainless steel sink
Stainless steel is a popular material in the market. This demand is due to its durability and affordable price. It is alloy steel - steel with impurities that improve physical properties. High resistance to corrosion in aggressive environments. Scientist Harry Brearley in 1913 gave us a great opportunity to use this metal in the creation of shells. They are made of corrosive steel for the kitchen; in addition to this type, there are two more. Properties include:
Not subject to staining;
High quality and durable, can last more than ten years;
It does not require special care;
Nice price;
Will fit perfectly into any interior.
Shapes and sizes
You can choose your sink for any kitchen, any parameter and any shape. There are also certain standards for dimensions and shapes.
Square
- suitable for a small kitchen, looks very compact. If you have to choose a small size, then the Russian-made factory offers deep square sinks. Parameters - 50/50; 60\60.
Attention! Earned on our website kitchen designer. You can familiarize yourself with it and design your dream kitchen for free! May also come in handy wardrobes designer.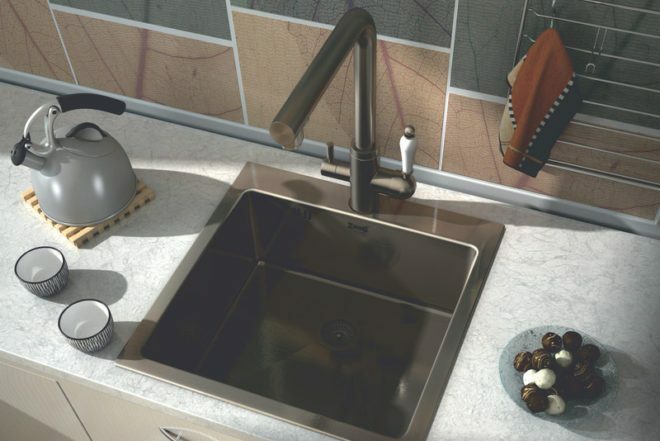 Round - plays with the simplicity of the material by design. Standard sizes are 40-50 cm in diameter and about 20 cm deep.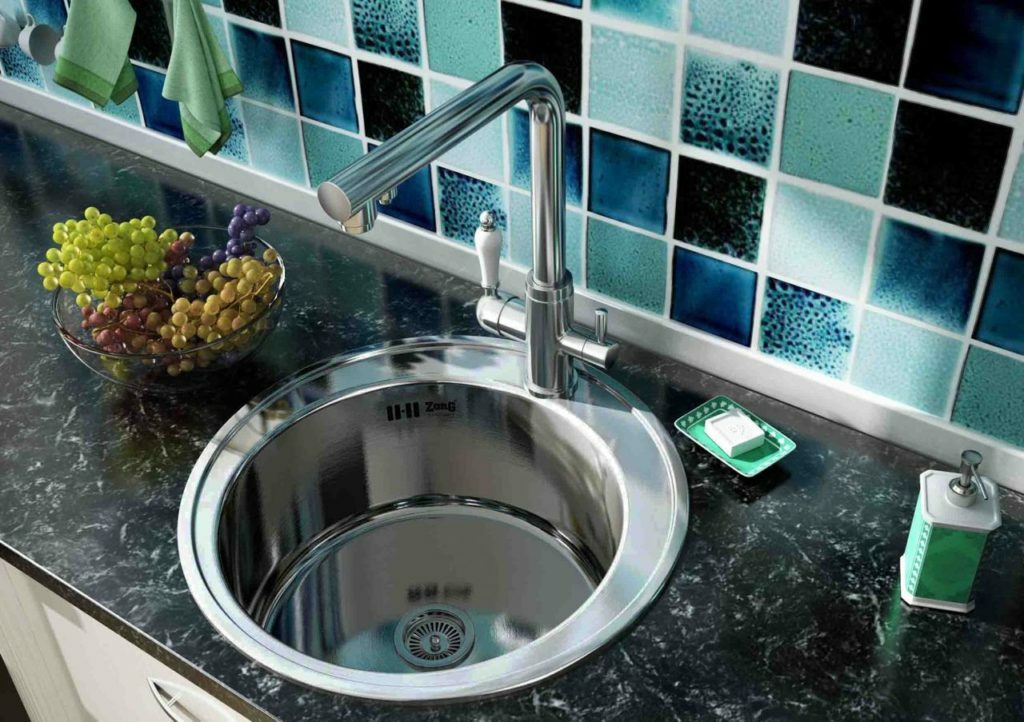 Rectangular - the market offers models of different sizes, but mostly they choose 800x600 and 78x50, 60x50.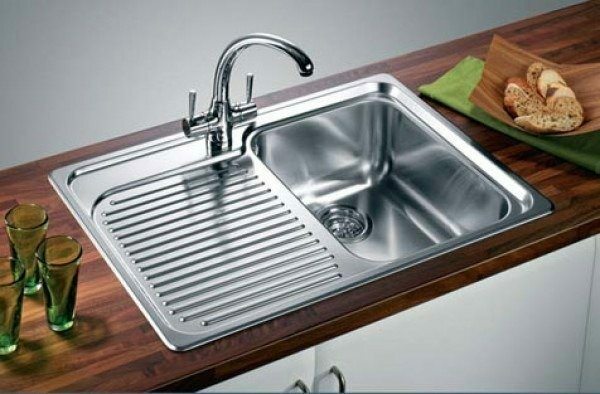 Five-, hexagonal - if you decide to purchase a sink of such a plan, the sizes 50x60 and 60x80 will not work, but 105x60 will be just right. This length is obtained due to the side wings, which are not uncommon in five-, hexagonal ones.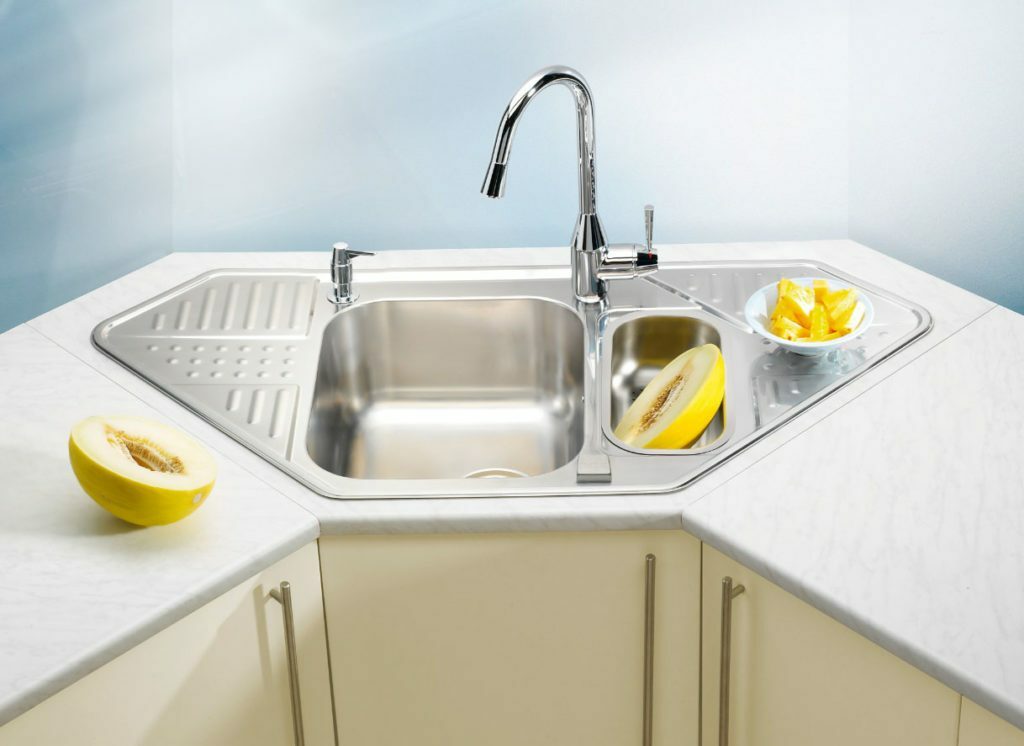 All of the listed sizes are small, but if the area in the kitchen allows, then you can deviate from these standards.
Types and styles of stainless steel sinks
It was mentioned above that this type of sink is a simple, standard choice in Russia. But if you have the imagination and desire to choose the style, then an ordinary stainless steel sink in the kitchen will acquire individuality and fit perfectly into the creative decor. Let's discuss the most basic styles, as well as a few design models.
Restaurants and other dining establishments use stainless steel sinks. They can be double or triple, their design, of course, does not differ in beauty, but entrepreneurs know that it is comfortable, durable, and therefore profitable material. Your house can have the same, moreover, if you want, there can be three or four compartments. The advantage is obvious:
More crockery can be accommodated;
Clean dishes can be dried in another section;
You can divide the dishes into fractions (glass, plates, cutlery).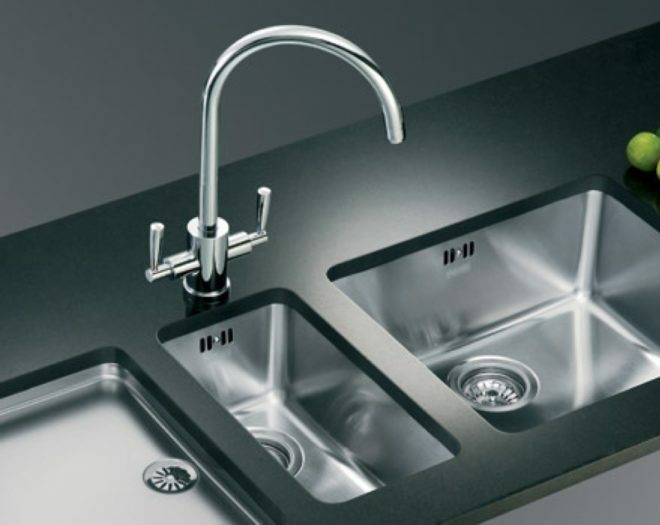 There is another type, it is no less popular - stainless kitchen sinks with side fenders. Its advantage:
More space for dishes;
The tabletop does not deteriorate from mechanical damage, and the material is not damaged from contact with water.
The sink is located right or left - it depends on which side the side fenders are located on.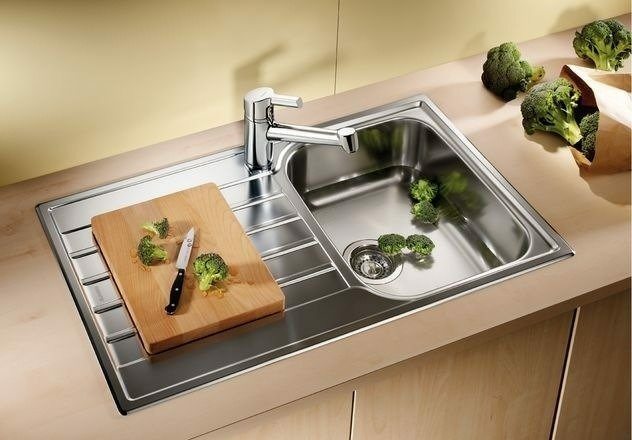 Several interesting kitchen design ideas
If you look closely, you can see that there is nothing special here, but the built-in cutlery plate immediately changes the entire look of the sink.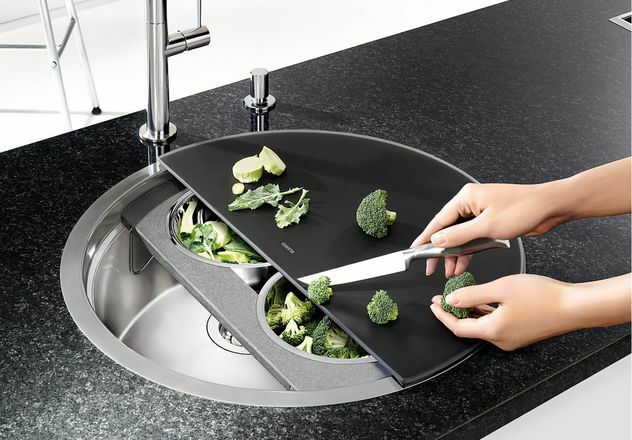 This style is called combined. Glass around the sink is integrated into the worktop. You can think of a lot of such interesting solutions.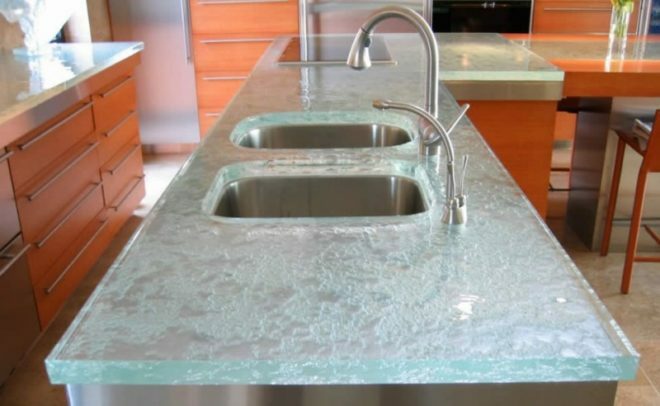 These couple of photos prove that everyone is a designer at heart.
What type of installation to choose
You can install the sink for the kitchen yourself. True, not quite everything can be done by a beginner. There are sinks that differ in the type of installation.
Overhead
This is the easiest installation method, does not take much time and can be performed by an unprofessional. Brief instruction:
Install the mixer;
On the inside of the cabinet, mark the installation site with fasteners;
Screw the screws into the marked places;
Install.
Ready.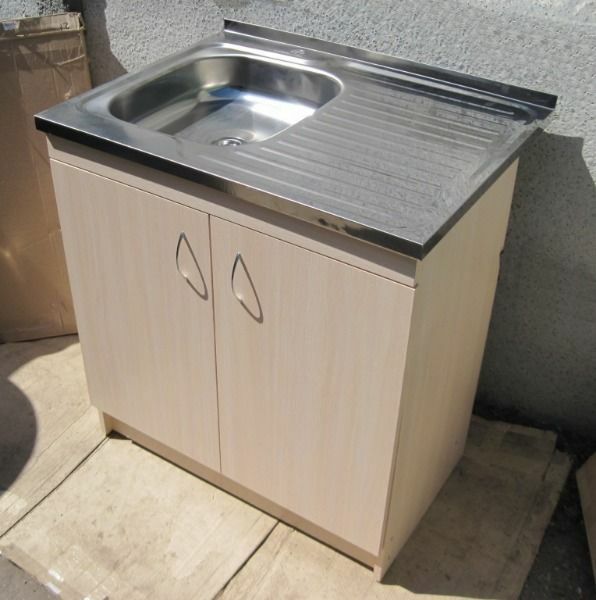 Mortise
This method is a little more complicated, as it will require more tools, time and some installation knowledge, but it is still possible to do it yourself.
Instructions:
Make a hole in the countertop;
We insert the sink into the countertop and fix it with fasteners;
We check the installed mounts.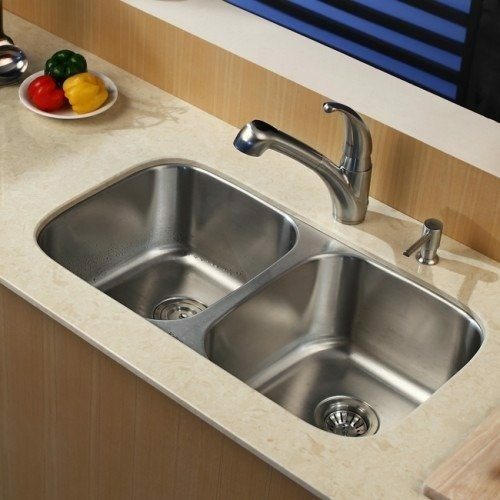 Embedded
It is not so easy to install it yourself, so if you do not have knowledge, then it is better to entrust the built-in installation method to specialists.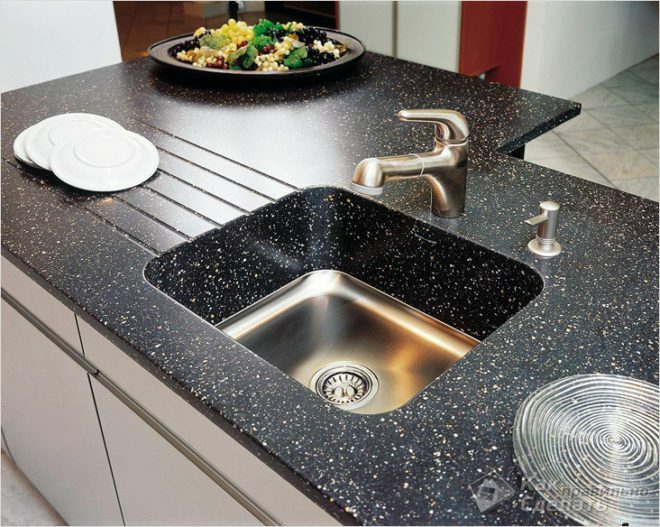 Kitchen sink manufacturers
Kitchen manufacturers are constantly coming up with variations of different styles. Which manufacturer is better?
In the first place is the German Blanco, on the market since 1925. Stainless steel is not the only specialization of the company. You can buy various other kitchen fixtures from them, but the company prefers sinks most of all. Different technologies make it possible to manufacture products with different qualities: polished, serrated, with a mirror or matte surface.
Franke - manufactures stainless steel sinks. Basically, its products are luxury products. The cost is above average.
Reginox. A company from the Netherlands is included in our rating, it is on the 3rd place in the production of stainless steel. Known for her love of the environment. The products are made from used materials, but this does not affect the quality and design in any way. The pricing policy of the factory allows you to purchase their product at an affordable price.
Alvenus is a Slovenian company that produces the same products at more favorable prices than the manufacturers listed above. The highlight is the emphasis on decor. Dyeing and creating unusual products bring her to the level of professionals.
Omoikiri is a Japanese factory that will fill your kitchen set with sanitary ware. She has been in business since 1981. Initially, it specialized in granite, but eventually switched to the production of sinks. The products of their production are tested by international standards at every level of creation.
Now it will be much easier for you to navigate when choosing a sink. We also suggest watching this video.
average rating 0 / 5. Number of ratings: 0
No ratings yet. Be the first to rate.