How to store packages? Even the most accurate and advanced hostess may have some difficulty. Paper, silicone, plastic packaging accumulates over time, because you get them in abundance when purchasing any product or product. Throwing out visually clean, undamaged, single-use bags is pitiful and uneconomical. They are always required on the farm, and several times a day.
However, lumpy packaging eats up a lot of workspace, creates a mess, tears and becomes unusable over time. This problem is very easy to solve. In order to prevent chaos in the home, save space, keep the packaging products clean, you should master the simple rules for storing bags in the kitchen and in other rooms.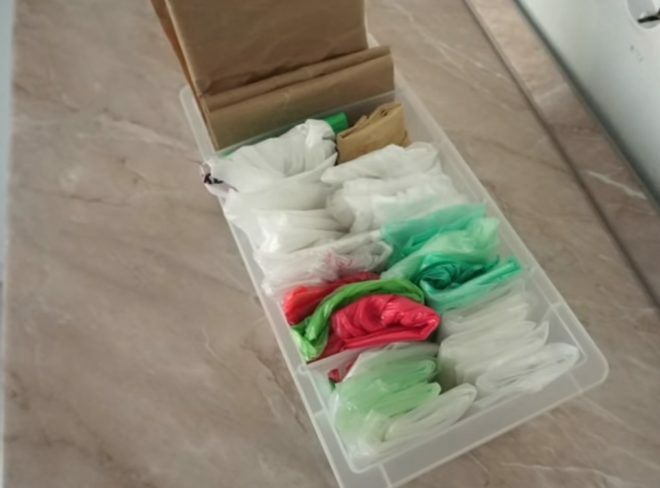 Image taken from https://www.youtube.com/watch? v = 6dPsleany6o
Where to store packages in the house
Once used and new bags can be saved anywhere in the apartment, ideally in the kitchen or in the pantry. The main condition is that the location must be dry, at room temperature and protected from direct sunlight. Therefore, for the storage of packaging materials, it is advisable to use kitchen drawers and cabinets, shelves and closet racks. Owners of glazed and insulated balconies and loggias can also use them to place rarely used packaging (for example, bags for seasonal clothes).
Attention! Earned on our website kitchen designer. You can familiarize yourself with it and design your dream kitchen for free! May also come in handy wardrobes designer.
After choosing a storage location, it is necessary to sort the available assortment. It is recommended to leave new products in their original packaging (for example, only purchased T-shirts or unopened garbage bags). Dispensed packaging and reusable pouches should be classified according to their intended use.
Silicone storage bags are polymer products that come with zippers (so-called zip bags or zip locks). These are functional reusable containers. Silicone bags for storage in Moscow are sold in many retail chains and online stores - they are very popular precisely because of their versatility. They are convenient to take on the road, they can be put in the refrigerator and in the freezer compartment, heated in a microwave oven, washed by hand and in a dishwasher. The main advantage of the zip package is the absence of leaks and spilling of products. And the easiest way to store them is to fold them one into one.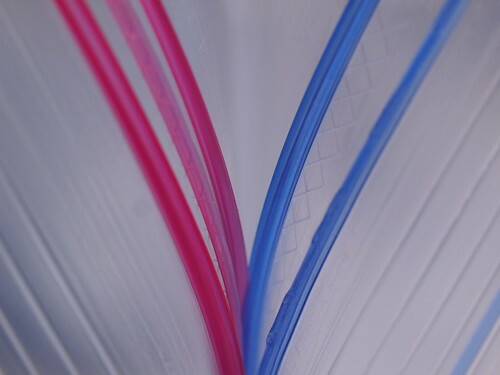 Photo by Wilson hui

Rectangular plastic bags are produced in small sizes. They come in handy when sorting cut foods, daily food packaging. It is advisable to save such bags in the drawers of kitchen furniture.
Drawstring bags are a great waste collection solution. It is advisable to put them next to the trash can. Small-sized packaging can be used to store vegetables in a special compartment of the refrigerator. It is also better to keep such a container close at hand in the kitchen.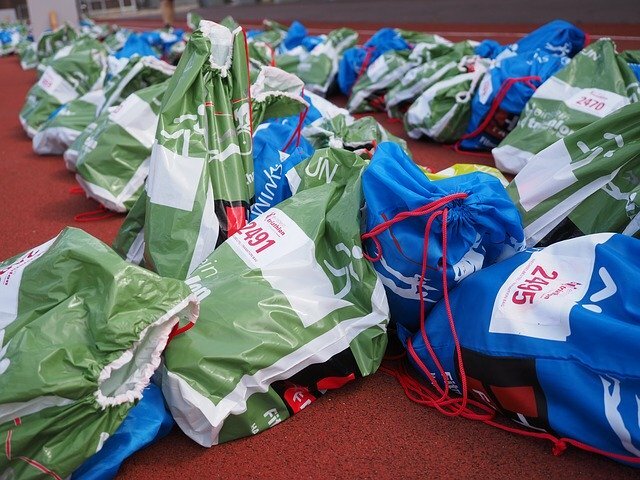 T-shirt bags are most often used in retail outlets: in markets and in supermarkets. At the same time, they are offered to buyers free of charge. Such plastic containers are disposable and must be disposed of after use. T-shirt bags are often needed by the hostess at home, so they have to be bought. To save money, it is advisable to purchase them in bulk in large stores and store them on the mezzanine in the pantry.
Paper packaging is often left over from shopping, as many large stores supply their goods with personalized bags. Paper bags can be reused. It is convenient to store hats, gloves and scarves unnecessary in the summer season. Or place children's toys compactly. Small accessories (such as phone cords and chargers) also don't get lost in your home if you put them in a paper bag. For storing paper bags, you can select shelves in a closet or in a wardrobe. The main thing is to prevent moisture from entering.
Colorful gift bags are sure to be required for presentations. As a rule, they are quite expensive in terms of cost, so the hostess is faced with the task of preserving their original appearance. Gift bags should be stored in a dry place out of sunlight. It is better to place them on the upper shelves of wardrobes, folded one into one.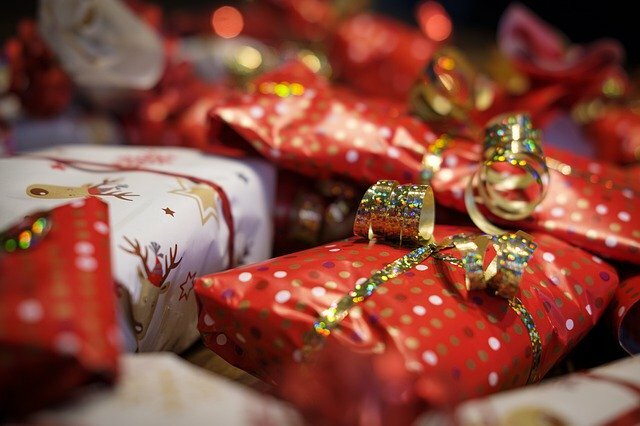 How to fold store T-shirt bags
Proper storage of packages implies their preliminary sorting into separate types. They are divided by size into small, medium and large. You should also organize the packaging according to the material, put paper, plastic, silicone, plastic, paper and cloth bags separately. When sorting, you need to get rid of torn and contaminated products.
How to fold a bag into a triangle
It is convenient to store cellophane and (or) plastic bags in the kitchen by folding them in a triangle. The styling process is quite painstaking, but the result is worth it. The difficulty lies in the fact that each bag requires individual work. The algorithm of actions is as follows:
We wipe the desktop dry.
We put the package on the surface and carefully straighten it so that there are no folds.
Fold in half vertically and smooth it gently with your hand.
We repeat the action (the bag should be folded into a narrow strip).
Form a triangle at the bottom of the strip (bend the bottom corner from left to right).
Moving from bottom to top (up to the handles of the T-shirt bag), we continue to fold the geometric figure.
We pass the edge of the last triangle into the handles of the bag.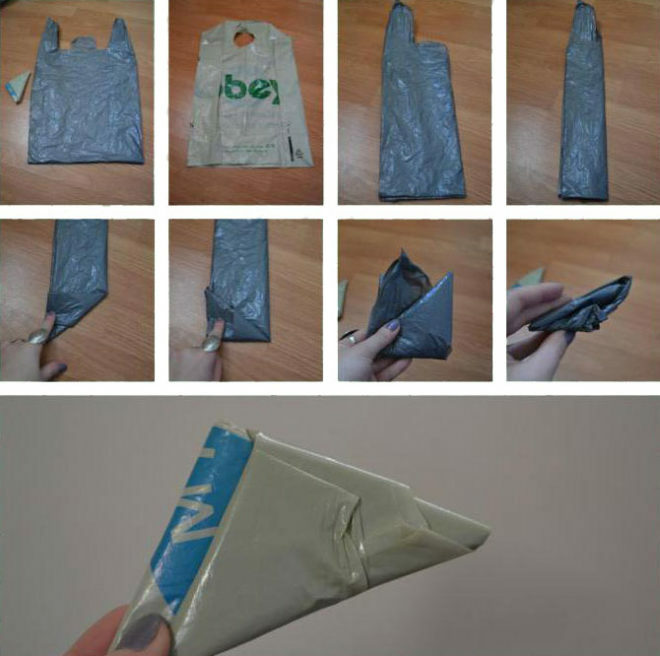 How to fold a bag into a straw
This installation option is very quick and easy. The order of manipulations is as follows:
We spread the packaging material on a clean, dry surface.
Fold vertically until you get a thin strip.
We wind the narrow tape into a roll.
We pass the end of the tube into the inner hole for fixing.
There are a lot of places where to store packages folded in this way: drawers of kitchen cabinets, pantry shelves, hanging cabinets.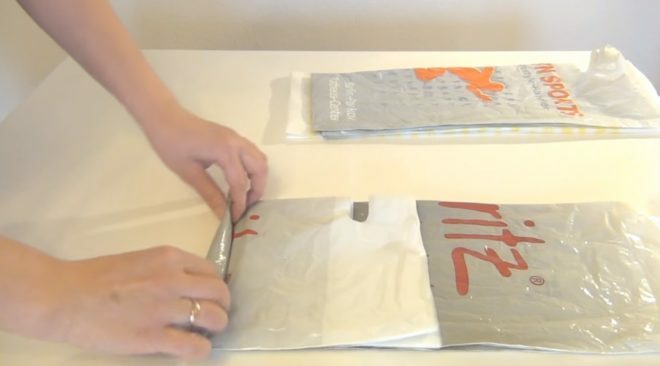 Image taken from https://www.youtube.com/watch? v = ff998lRRwvw
How to fold a bag into an envelope
This method is very convenient for storing large bags made of dense materials. Laying sequence:
We straighten the bag, trying to get rid of folds and air bubbles inside.
We fold the two edges vertically inward and fold again to form a narrow strip.
We begin to fold into one square.
Place the edges of the bag in the middle so that the edges do not unfold.
As a result, we get a small quadrangle. Such "envelopes" can be folded into low boxes from under new shoes and placed on pantry shelves.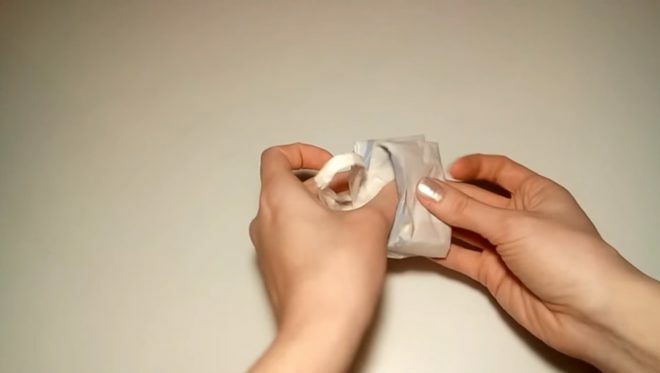 Image taken from https://www.youtube.com/watch? v = 0TXyqom9fQs
How to stack packages one into another
This method is an ideal solution for the placement of T-shirt bags used on a daily basis. By placing the open packaging of the new pouches in the container, it is very easy and quick to remove them. How to do it? The algorithm is as follows:
We spread the bag on a flat surface.
We bend it vertically.
We begin to twist into the "coil", moving from below.
Having reached 5-10 cm to the top, add the second bag. Thus, you can pack ten or more packages in a bundle.
We send the finished roll to a rectangular or square container or intercept it with an elastic band (so that the roll does not disintegrate). Leave the handles of the last bag free.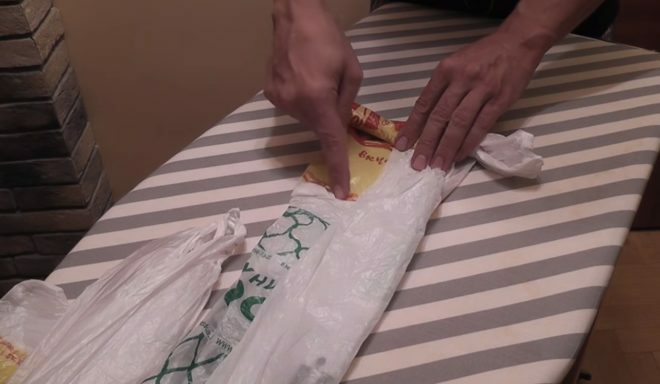 Image taken from https://www.youtube.com/watch? v = QypDmzgviek
Container from under napkins
Empty paper napkin containers will become a compact and practical organizer for storing bags. We fold the cellophane bags in the "one into the other" method. We place it in a cardboard box. Pull the handles of the last bag through the outer hole. When we take out the first unit, it will pull out the "tail" of the other bag.
The most interesting ideas
Many people prefer not to bother finding a place to store bags, but simply throw away all reusable bags. This is a huge mistake: an experienced hostess always saves packages that can be used later for household purposes. This is not only financially impractical, but also ecologically illiterate.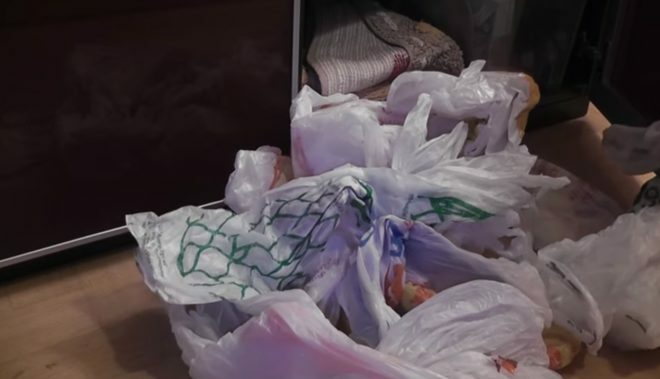 Image taken from https://www.youtube.com/watch? v = QypDmzgviek
The main danger of polyethylene is environmental pollution, because polymers decompose for several hundred years. When the material decays, toxic substances are released that poison the soil, harm the flora and fauna, and worsen human health. For this reason, storing and reusing kitchen bags in the kitchen is essential to preserving the planet's ecosystem.
You can organize the storage of packages in the kitchen with your own hands, connecting imagination and using available tools. Also, the stores offer a wide range of finished products, in which it is convenient to fold packaging containers. These are wicker baskets, plastic containers, wooden and metal boxes. From a huge selection of models, the hostess can choose the best option that matches the style and color of the interior. We offer the most original ideas on how to store bags in the kitchen below.
In a plastic bottle
Storing bags in a plastic bottle is a good idea and takes some preparation time. We take a new two-liter plastic bottle (you can take a 3-liter container to accommodate large bags). With a sharp clerical knife in the center, cut out a gap so that the roll can be placed there. We put folded bags in a bottle, which we will later take out through the middle.
There is also a second option. If you make a puncture in the bottom and then a loop for the hook, then the plastic container can be attached to the cabinet door handles, with the neck down. And through this neck, the bags are easily pulled and taken out one by one.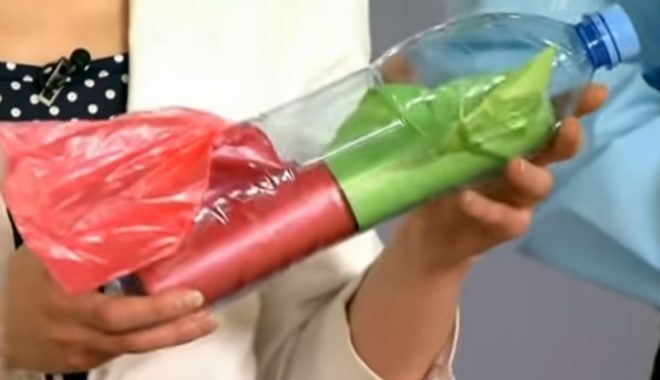 Image taken from https://www.youtube.com/watch? v = wz9nR87hGn0
Those who find such methods not very convenient can do another way. Carefully cut off the neck of the bottle. We put the container upside down on the table. We place packages like paper napkins. To make the container more attractive, the plastic can be painted with acrylic paints or pasted over with self-adhesive paper.
In the box
As with plastic, cardboard boxes allow you to use your imagination and imagination. Small shoe boxes or other small, lockable boxes are suitable for storing bags. In the upper part of the box, cut out a round hole through which we will pull out the bags. To make the container cute and original, you can wrap it in colorful gift wrapping paper.
Today, plastic boxes with a lid are very common (for example, for wet wipes). After the initial contents are finished, you can put a plastic wrap there, rolled up in a roll or tube, and use the box an endless number of times.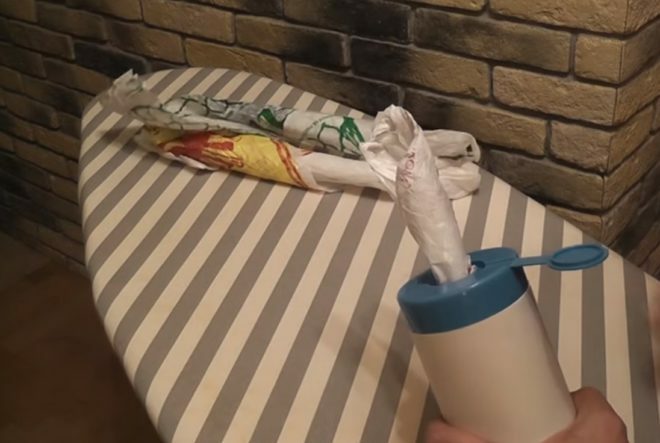 Image taken from https://www.youtube.com/watch? v = QypDmzgviek
In the bag
A life hack on how to store bags in the kitchen - use an old handbag or a large cosmetic bag. This option saves usable space in the kitchen. The miniature bag can easily fit in the closet mezzanine or in the kitchen unit under the sink. The advantage of this method is the reliable preservation of the bags, since products made of leather or high-quality leatherette do not allow moisture to pass through. You can also store the bags in the kitchen in a large, durable bag.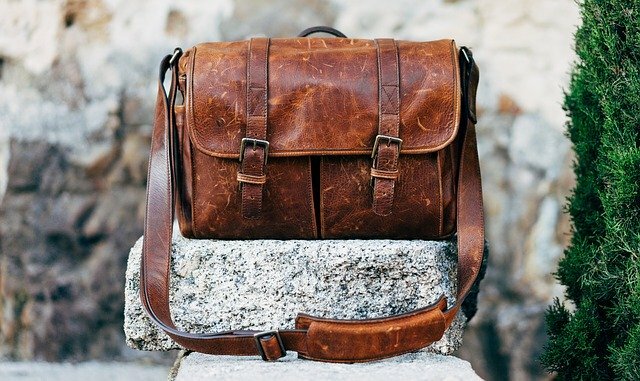 In a doll
A homemade or factory made doll is an interesting bag packing solution. This product looks like a toy, which has two holes that can be fixed with strings. Such an attribute is easy to sew on your own using the head, arms and legs from a plastic doll.
Or you can take any old stuffed animal, carefully remove the filler and equip with strings. It will look great when paired with tea towels. At the same time, vertical placement of the doll saves working space, it is always in sight, and it is very convenient to use it. And how to arrange the packages themselves - in a triangle, envelope or in a roll - is only a matter of your imagination and convenience.
average rating 0 / 5. Number of ratings: 0
No ratings yet. Be the first to rate.