It is important for a kitchen unit that it has enough storage space. If possible, fit all the necessary items into the lower cabinets; it is better to refuse hanging cabinets. This is especially true in small spaces. There is no need to overload the kitchen space with furniture that can be discarded.

Features of a kitchen without hanging cabinets
The standard interiors have remained in the Soviet era. Now there is an opportunity to create a custom-made kitchen design project, in which specialists take into account the layout of an apartment or house and the wishes of the owners. You can exclude the top cabinets from the headset, but before that you need to take into account all the disadvantages and advantages of this option.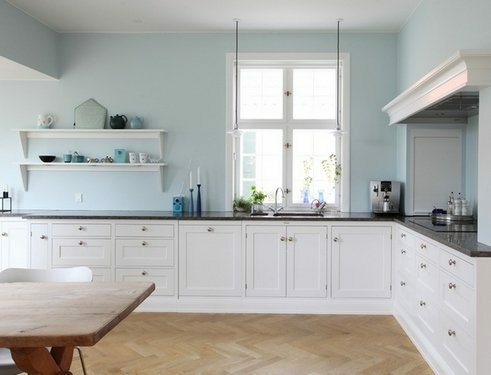 Attention! Earned on our website kitchen designer. You can familiarize yourself with it and design your dream kitchen for free! May also come in handy wardrobes designer.
Advantages
A kitchen without upper cabinets looks more spacious. In this case, the ceiling is visually raised. In a kitchen interior without wall cabinets, more lighting is added, making cooking and dining more comfortable. There is no need to spend money on facades, decor, fittings and other elements for wall cabinets that are not planned to be used.
A kitchen with only lower items is a more economical solution.
Cleanliness is a very important factor in the kitchen. Dirt settles faster on cabinets above the stove. Cleaning them is not so easy, as washing too thoroughly can ruin the original appearance of the furniture fronts. The presence of a hood and an apron above the stove will simplify cleaning, because caring for a moisture-resistant material covered with glass or ceramicseasier than furniture. Walls free from furniture can be used as a space for decor. Wall (for more details, see this article) above the work area will effectively decorate a glass or ceramic apron with an unusual design.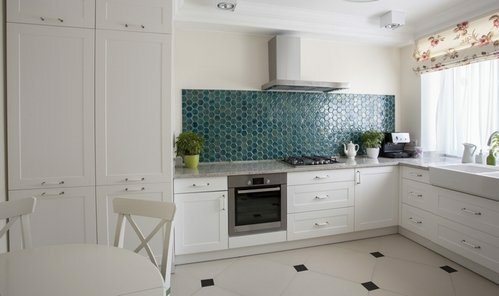 Flaws
Top pieces of furniture cast a shadow over the bottom row, which makes all the flaws less noticeable. If there are no hanging elements in the room, then every surface imperfection will be visible, for example, stains, fingerprints on glossy materials and even small dirt.
Without hanging modules, the amount of storage space in the kitchen is reduced. Moreover, their surplus is not so noticeable. Top cabinets are a very practical solution. If the space lacks width and length, then height should be used. Refusal of the upper row of furniture in a small kitchen will cause a lot of inconvenience.
If it was decided to exclude the upper cabinets, then shelves can be installed on the walls. They visually look much easier and do not burden the room. But on such open shelves, dust will quickly collect, so the kitchen will have to be cleaned more often.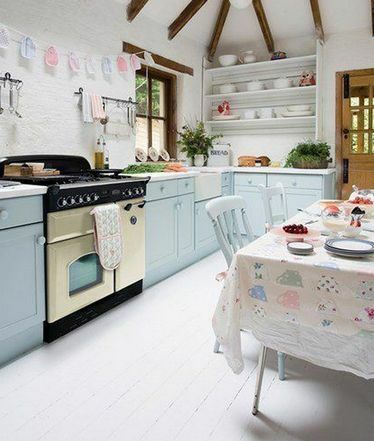 Although rare, there are times when the top cabinets overflowing with dishes fall. It is also worth noting that tall cabinets are not convenient for everyone. It is problematic for children and short people to reach their hands, for which many use a stool. Spacious lower cabinets will suit everyone. Indoors with an area of ​​less than 10 square meters (read also about decoration in five, seven, eight and twelve m2) it is undesirable to completely abandon the upper part of the headset. At least two wall cabinets should be installed, which will be useful in a miniature kitchen.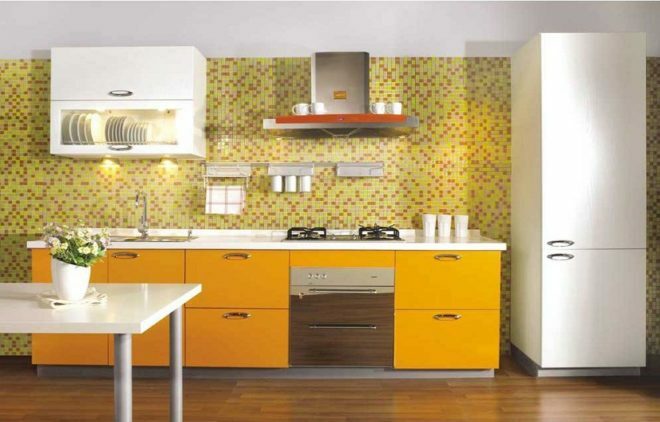 Where to store items in a kitchen without top cabinets
Wall cabinets are designed for storing crockery. If there is enough room in the kitchen for a separate cupboard, then the upper pieces of furniture are not needed. In this case, the sideboard does not have to be combined in color and design with the headset.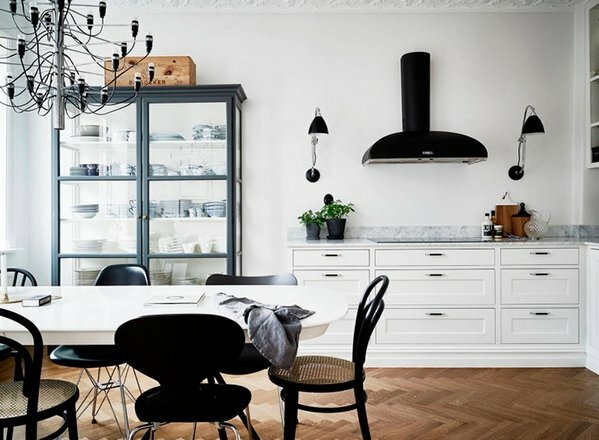 In the interior of a spacious room, you can organize a pantry cabinet where kitchen items and some products will be stored. For embedding such a pantry, some kind of free corner is suitable. A series of cabinets can be placed on one side of a corner or parallel type headset and a microwave, oven and refrigerator can be built into them. Thanks to this solution, the part of the kitchen with the working area, which includes the sink and stove, remains uncluttered. An island is often placed in the middle of a large kitchen. If equipped with drawers for storing dishes, then it will be an excellent substitute for a sideboard.
How to occupy the space above the lower row of kitchen furniture
With a small length of the furniture row, the wall above the work surface can be free - only the hood will remain. A minimalistic kitchen will be the best solution. Instead of upper cabinets, shelves are usually hung. It is advisable to place on the shelves only those items that are constantly used, otherwise stagnant dishes will quickly become dusty. Leave the rest of the items in closed cabinets. In this case, the shelves can be arranged according to symmetry and asymmetry. It is also possible to use one long shelf or several small shelves located at different levels.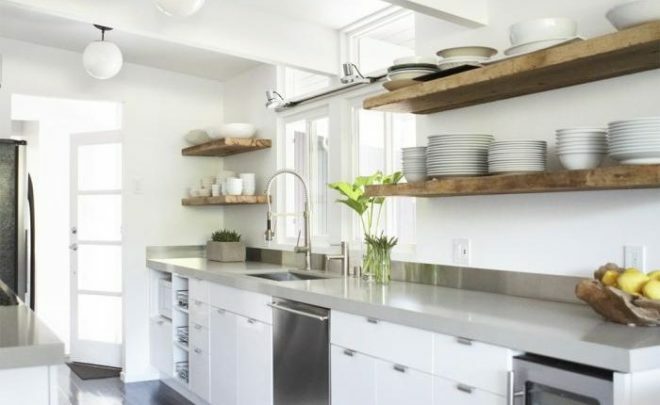 The upper empty part of the kitchen may seem empty. Low pendant lights will help to fix this.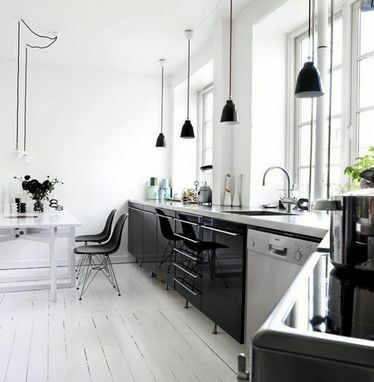 Usually, in the presence of hanging cabinets, light sources are mounted directly in them. But in this case, an alternative to them will be an LED strip attached to the kitchen screen, or wall sconces. A small room may lack light from one chandelier (tips for choosing here), so it is better to add comfort to the working area with the help of movable lamps on the brackets.
In a kitchen without upper wall cabinets, the design of which is shown in the photo, there is a place for rails for kitchen items, photographs and paintings, wall clocks.
You can visually get rid of the feeling of emptiness with the help of a colorful kitchen apron. Moreover, if it is of the same color and light, then it is worth raising the apron almost to the ceiling. Light will be reflected on the glossy wall, due to which the kitchen will become lighter and wider (you can read in detail by choosing a color here).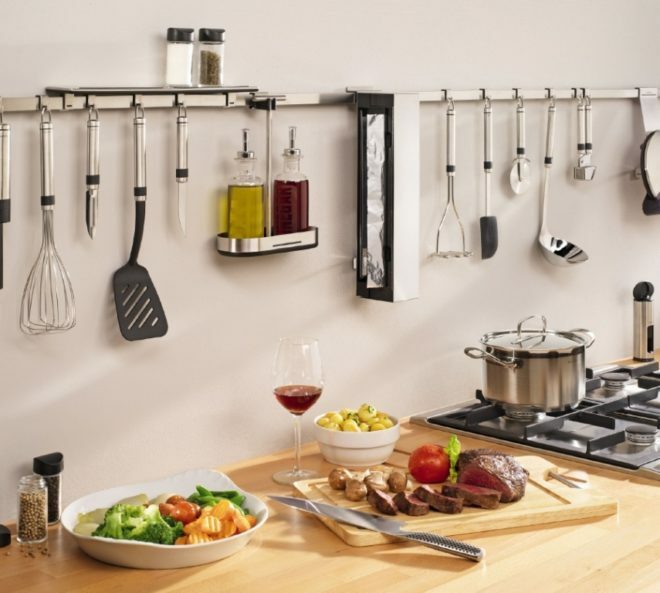 The design of a kitchen without upper cabinets seems to many to be an unusual option, but it has a number of advantages. This solution will be relevant for both small spaces and spacious kitchens.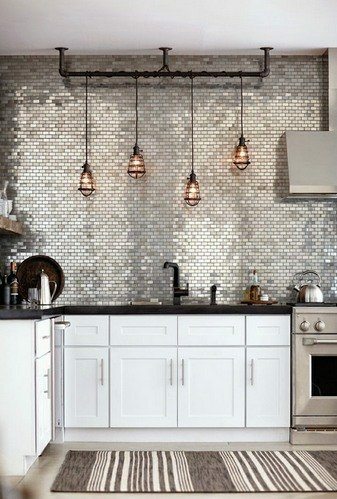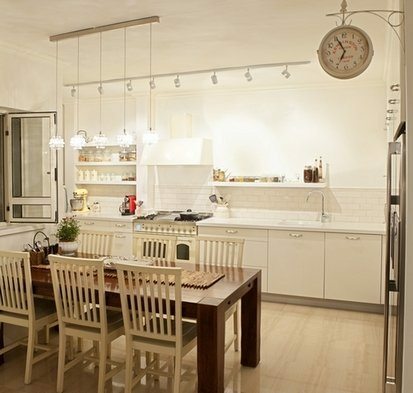 Video: ideas for a kitchen without upper cabinets 
average rating 0 / 5. Number of ratings: 0
No ratings yet. Be the first to rate.