Our cuisine is unique and unusual. In any case, having reviewed many options, I have not seen anything like this anywhere else. The classic style traditionally assumes matte surfaces. Covered with an aged patina, the furniture looks noble and solemn. Gloss is found only in modern interiors, on facades often without any decor.
Made in the company  Furniture Workshop PROhoroV ,
prohorovdom.ru
G. Krymsk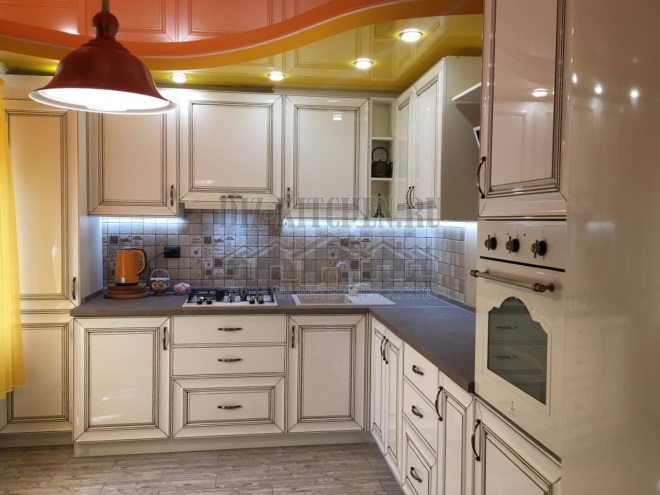 Attention! Earned on our website kitchen designer. You can familiarize yourself with it and design your dream kitchen for free! May also come in handy wardrobes designer.
But our cuisine is completely different. The glossy classic surfaces are incredibly effective. The interior has become elegant and radiant, while retaining all the features of a classic kitchen.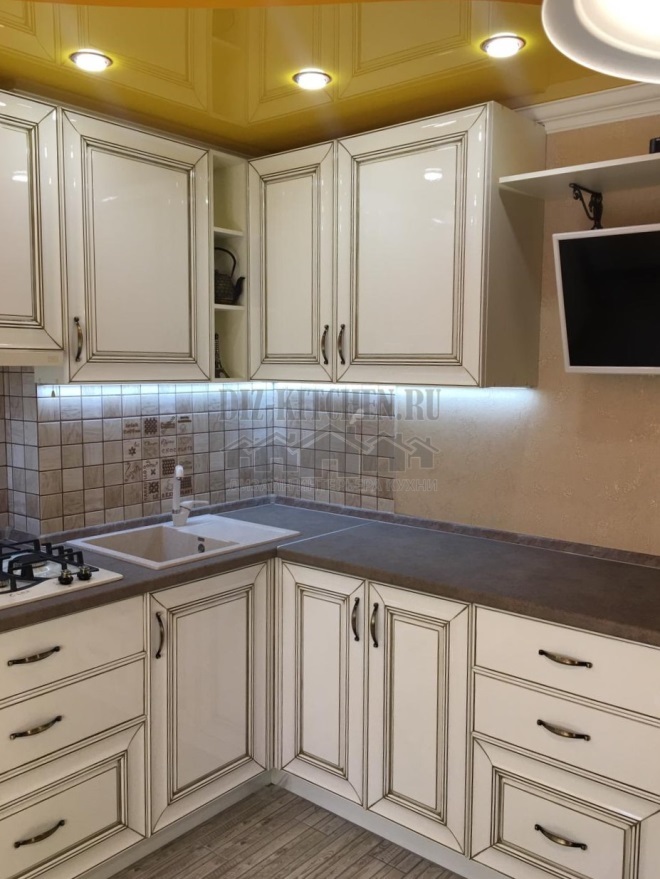 Shiny white facades created the illusion of spaciousness, further pushed the space of the room and raised the ceiling. The room is filled with light and air, there is no crowding in it.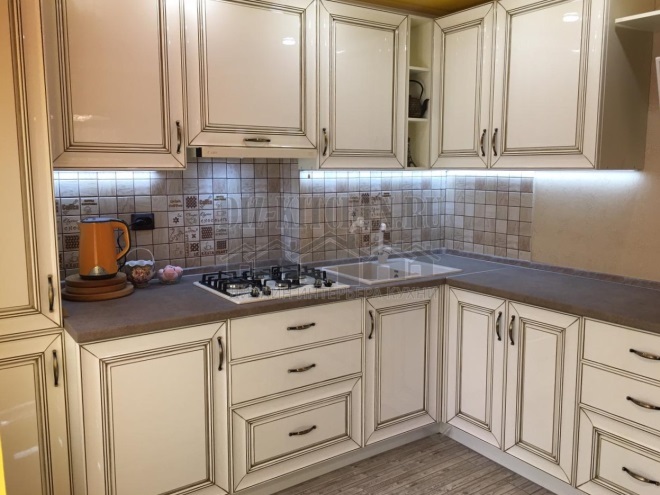 Complemented the sunny look with a colored two-level ceiling, also glossy. And together with the brilliant headset, it all came together in a magnificent picture.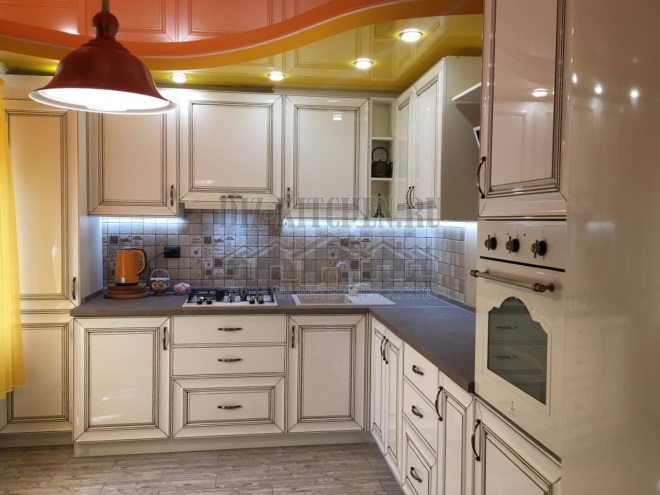 The corner suite begins with a high closet-pantry right up to the ceiling. The furniture ends with a refrigerator by the window, next to a pencil case with built-in household appliances. The beige refrigerator has successfully become an integral part of light furniture.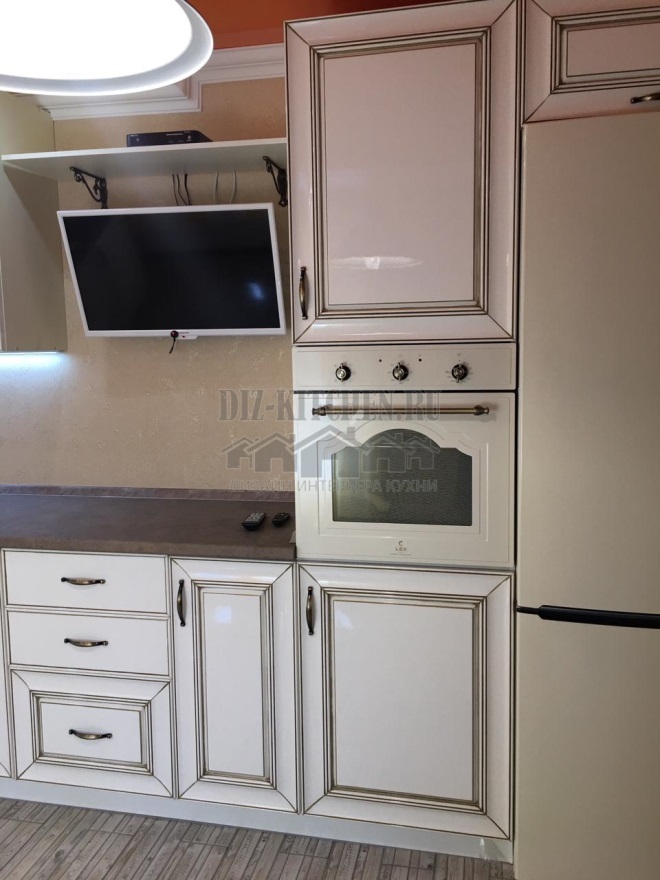 The sink had to be moved close to the hob. But on the other hand, we now have a TV hanging on a free wall and all the work in the kitchen with video and music is just a joy.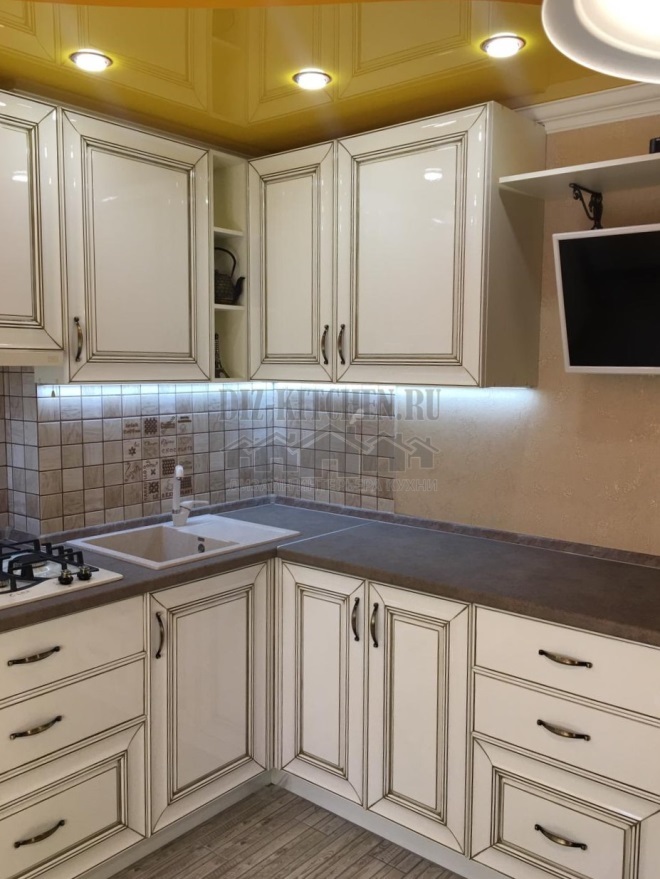 The torso-level oven proved to be very comfortable, because you don't have to bend over to it. The stylized portal is slightly different in height, so it is more visually emphasized.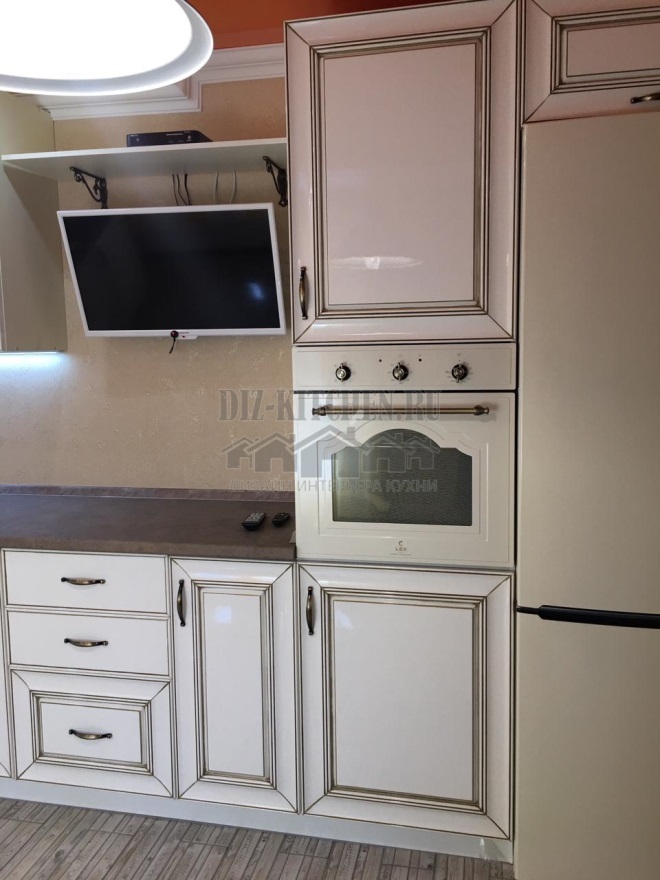 Glossy facades in white are covered with a golden patina. They are well set off by a dark brown matte table top and a white-brown tiled backsplash. The wall panel became a connecting link between the countertop and the facades, while the matte surface of the countertop slightly dimmed the shine and radiance of the facades.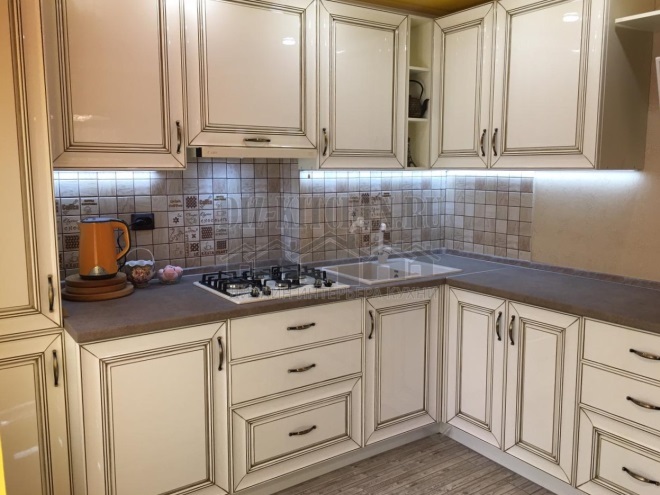 A festive and sparkling kitchen looks really cool. This is the real heart of our home!
Average rating / 5. Number of ratings:
No ratings yet. Be the first to rate.