White furniture always evokes the most positive emotions. This is an unchanging classic that will never lose its relevance. Our monochrome interior looks elegant, solemn and impressive. They preferred multi-texture and a combination of different textures and materials, which became the main focus.
Made by company  Furniture Comfort ,
mebel-mk.ru
G. Anapa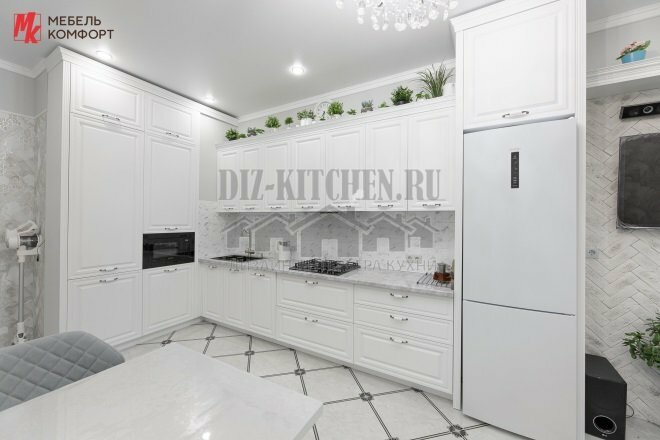 Attention! Earned on our site kitchen constructor. You can get acquainted with it and design the kitchen of your dreams for free! Also may be useful wardrobe designer.
The design turned out to be no less interesting than the bright flashy colors. With the help of smooth and embossed surfaces, different tones, the interior looks much more expressive and dynamic.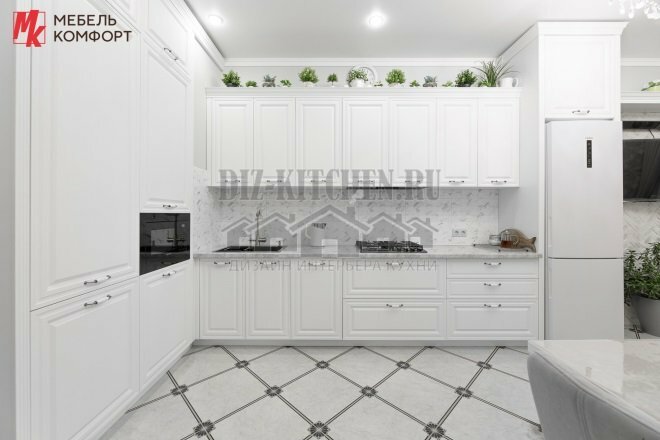 The set has dimensions of 1900*6350 mm (ceiling height 2835 mm), located along one wall in a rectangular room.
Due to the white furniture range seems even lighter and more spacious. Simple facades made of MDF in film (white wood super matt) with Bert's milling do not look heavy and bulky, the atmosphere is light and relaxed.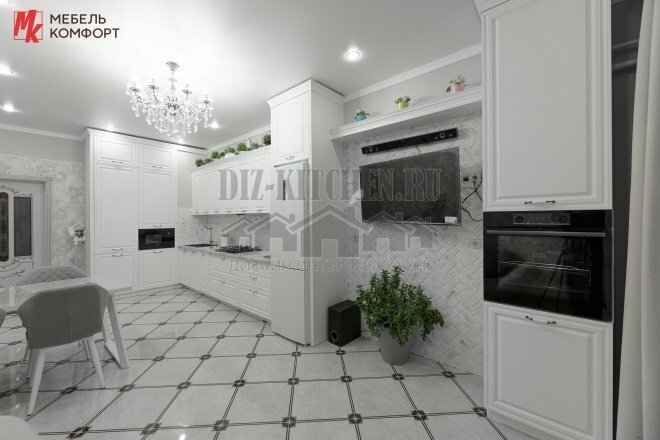 Small accents in the form of greenery in pots, black household appliances, countertops and an apron enliven the picture and the room does not evoke associations with a hospital ward.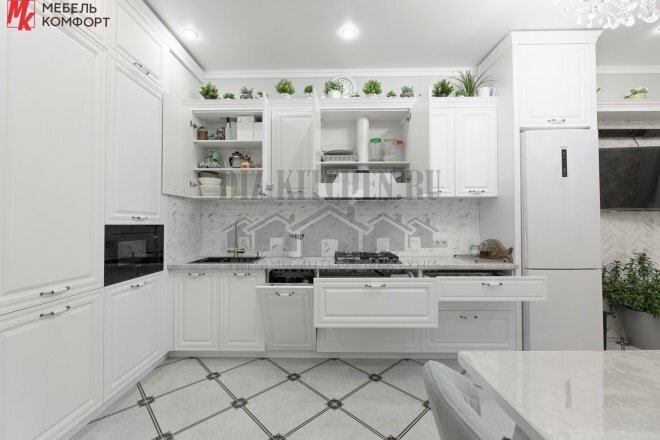 A long rectangular kitchen-living room is divided into zones by high pencil cases. The TV is, as it were, framed by columns, on the one hand a cabinet with a built-in refrigerator, on the other - a built-in electric oven at the level of the torso. Moreover, the oven is already installed in the living room area.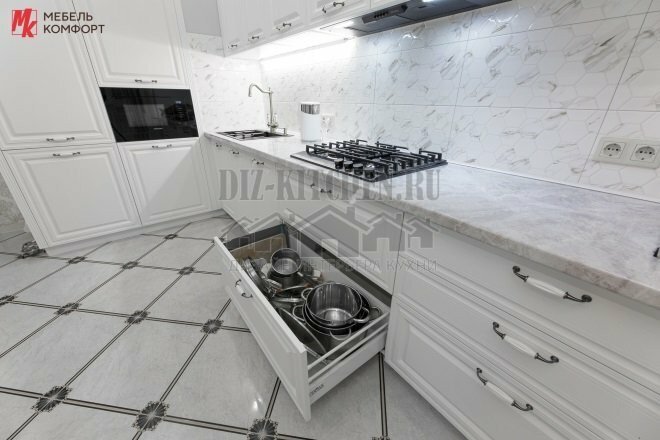 The furniture case is made of chipboard (White Snow). There are many storage sections, a dishwasher and a gas boiler fit inside.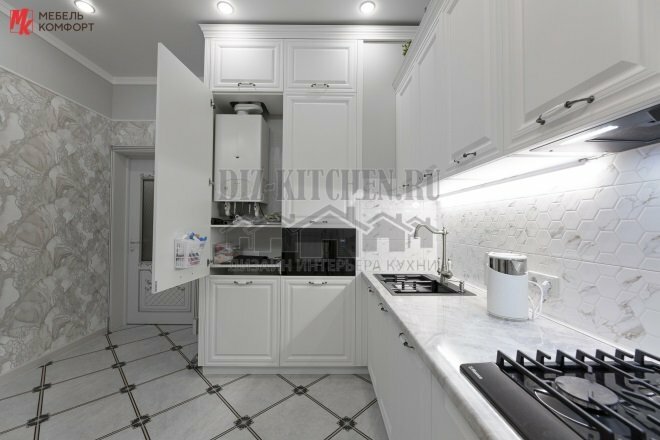 All fittings - FIRMAX.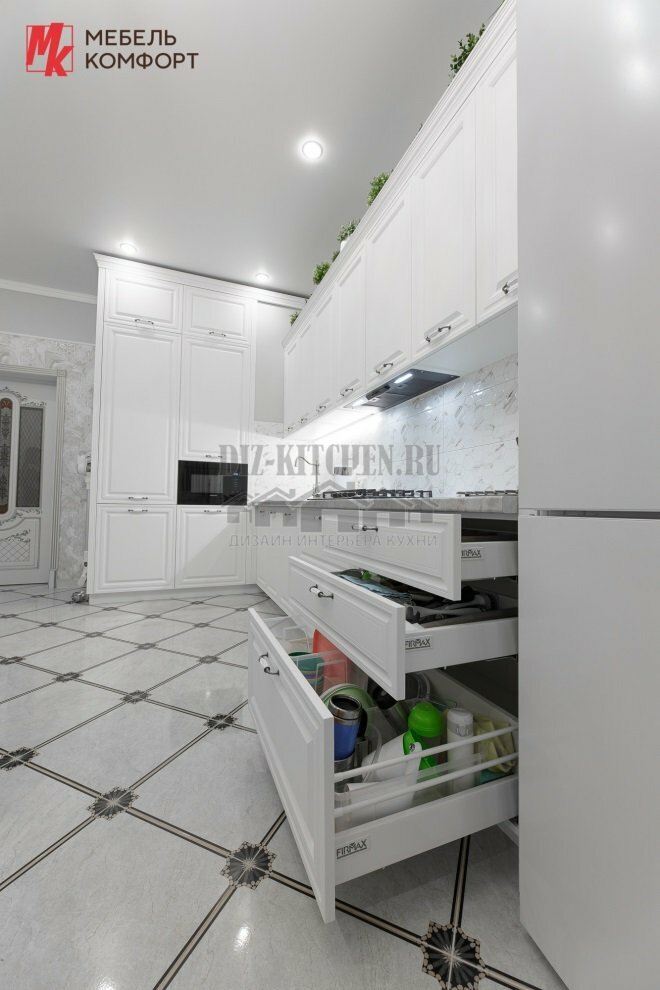 The worktop is quite spacious, it has a sink, a gas hob and there is still a place to work.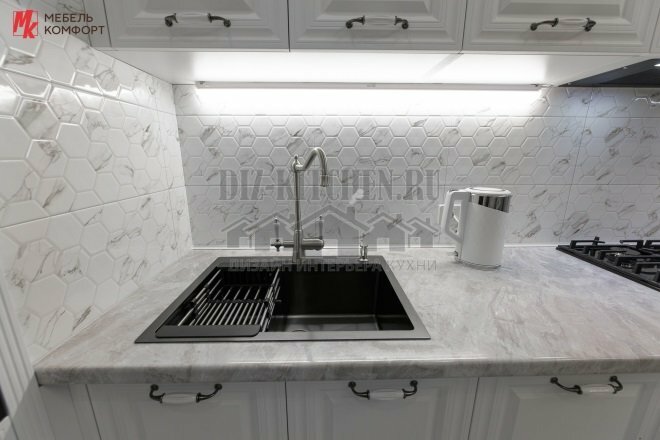 Downstairs - dishwasher, dish dryer, upstairs - built-in extractor hood.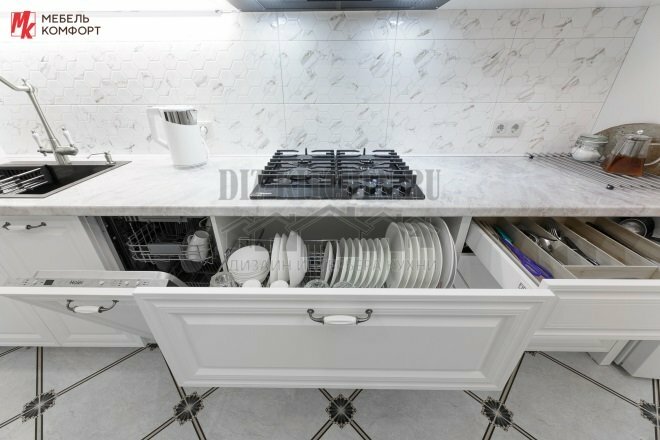 Tabletop Thassos Exclusive made of HPL-plastic (light gray) with stone imitation. Apron tiled "honeycomb", white with small gray patches. The shades of the backsplash and countertops do not disturb the overall picture of the light set, but at the same time they do not allow the upper and lower modules to merge.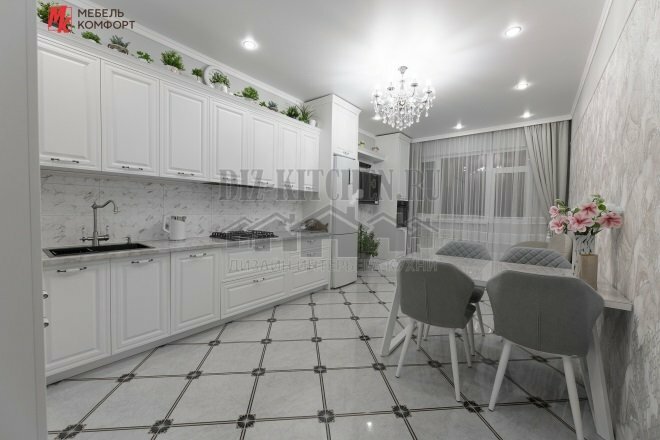 But the area with the TV is lined with similar gray tiles, but rectangular, with a herringbone pattern. Such a soft contrast is more suitable for a monochrome interior.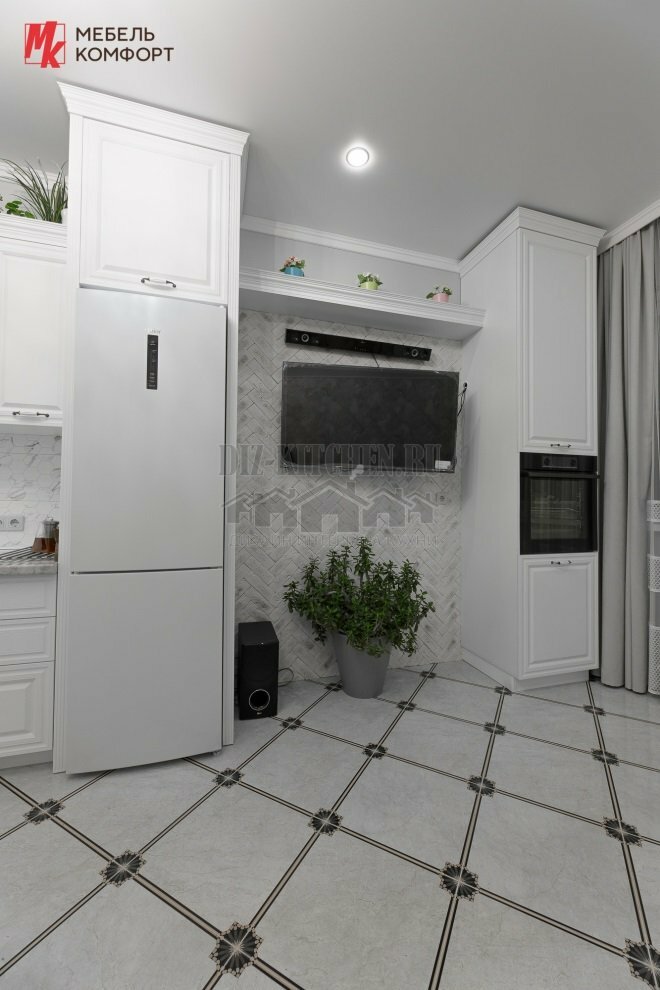 An interesting and not frequent solution is an accent floor. The diamond-shaped pattern set off the laconic and noble furniture, and the interior acquired depth and projection.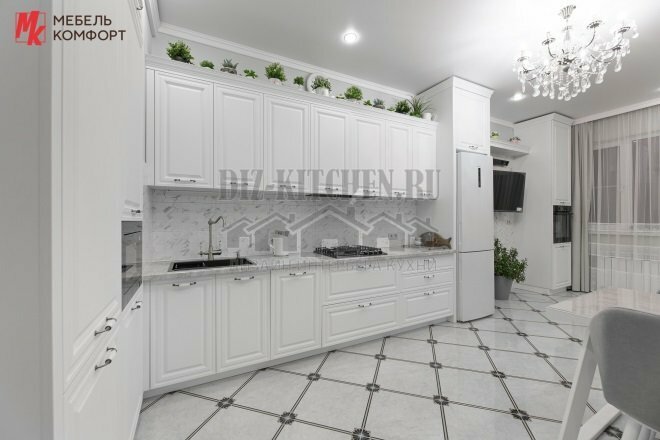 In such a kitchen you feel as comfortable as possible, the space turned out to be beautiful, homely and cozy.
Average score / 5. Number of ratings:
There are no ratings yet. Rate first.