A wall heater is a heater that is mounted on a wall. This is convenient because it does not take up space on the floor. There is more free space.
Also, the heater has a small thickness - it is relatively flat, so it will not interfere with anyone on the wall. In all other respects, wall-mounted heaters are no different from floor counterparts.
The content of the article:
Types of wall heaters

What to look for when choosing

Which wall heater is better

Top 10 wall heaters

Ballu BIH-AP4-1.0

Hyundai H-HC7-20-UI291

Nikaten NT 200

Ballu BIH-L-3.0

Electrolux ECH/R-1500 T

Noirot Spot E-5 Plus 1500

LVI Yali 05 080 21 230 13 1

LVI Kaba 05 140 10 230 10 1

TeplEko 0.4 kW

HEAT OF THE CRIMEA EO 448/2 STONE FIREPLACE
Types of wall heaters
Manufacturers offer two types of wall heaters:
There are many types of such devices, but they all fall into one of these groups. For example, oil-filled radiators are also convection because they heat the air that rises towards the ceiling. And from the floor to the device rises cold air, which is heated by it. There is a movement of air, which is called convection.
Convection models are those that heat the surrounding air with their body. And the case is heated by a special element connected to an alternating current network with a voltage of 220 volts.
Convection wall heaters got their name from the device, in the design of which slots were made at the top and bottom, air moved through them. A gap was left between the heating element and the outer panel of the case for the movement of air masses.
Some models were equipped with low-power fans that forced air through the gap, thereby increasing the efficiency of the heater.
Infrared models differ in principle from convection models. They do not heat the air, because they do not emit thermal energy. They give off infrared rays like the sun. The rays reach the plane of objects, furniture, building structures (walls, floors, columns, etc.) and heat them up. And these planes give the air their thermal energy. This is how rooms are heated.
Infrared wall heaters - these are several different devices that differ from each other in the element that emits IR rays:
Halogen lamp.
A tube made of quartz. Inside it is laid a carbon spiral, which is supplied with current.
Ceramic heater.
All these devices have almost the same advantages over convection models:
100% security;
fast heating;
high efficiency;
makes almost no noise during operation;
40% energy savings compared to convection heaters;
you can focus the direction of IR radiation.
Minuses:
more expensive than convection;
it is difficult to integrate intelligent tuning into the instrument.
It cannot be said that convection wall heaters are inferior to infrared in all positions. But they have lower efficiency. Even within a group, the performance difference is significant. For example, for ceramic models it is 90%, for oil models it does not exceed 75%. But the service life is long - at least 50 years. Plus, the price is less.
Convection wall heaters have one serious disadvantage - they dry the air. The problem is solved by installing a humidifier. But these are additional costs.
Many devices are equipped with a fan that makes noise during operation. And this is also unpleasant. Another disadvantage is the dust that burns when falling on an open heating element. In addition, the movement of air currents raises this same dust, which can also be attributed to the minuses.
Thermal curtains should be singled out as a separate group. In fact, this is a long heat fan that is installed above the front door. They are rarely used in dachas and private houses, especially in apartments.
Basically, they are mounted at the entrance to a store, cafe and other establishments of a similar type. The task of the wall heater is to cut off the cold air passing into the room from the street when the front door is opened from the interior space. The device can work continuously or intermittently, only when the door is opened.
Wall heaters offered in stores are in demand regardless of their belonging to any groups or categories. But you need to choose wisely, so the criteria for choosing a wall heater will be discussed below.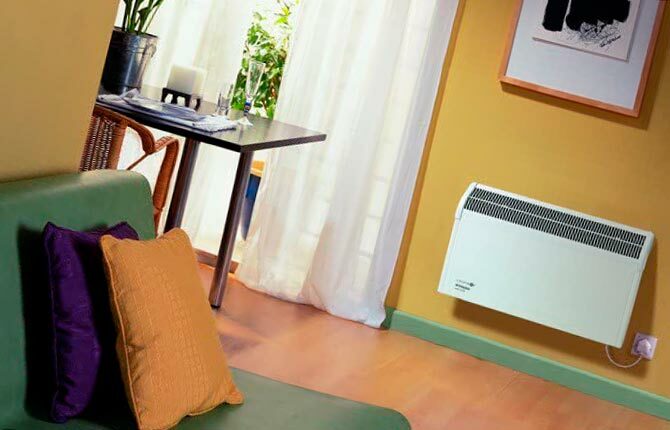 What to look for when choosing
Wall heaters, like all heating devices, are selected according to the same main indicators.
And the main one is the power of heat energy release. This is where the standard ratio comes into play. And in addition to power, there is a heated area. The ratio is 1 kW of heat per 10 m².
For example, if the area of ​​​​the room where it is planned to install a wall heater is 20 m², then a device with a power of 2 kW is required to heat it. But if for convection heaters this is the average value, then for infrared heaters it is the maximum. This calculation is applied if the wall heater will perform the functions of the main heating.
The second selection criterion is size. The larger they are, the larger the heat transfer area, the more powerful the heater. In the model range you can find different dimensions, for example, long or high. Picking up the size of the installation site is not a problem.
Some manufacturers increase the thickness so as not to change the other 2 parameters, but at the same time increase the power. For wall heaters, thickness is a critical dimension. It is necessary to treat its increase wisely.
The third criterion is the management system. There are two positions - mechanical or electronic. The first models are simple and cheap, with a bunch of drawbacks:
functionality is limited;
rapid wear during long-term operation, which causes failure;
a large error when the temperature is set;
a strong click when the thermostat automatically turns on or off.
Electronically controlled wall heaters have wider functionality. For example, setting for a long time of use, more accurate temperature setting.
The fourth criterion is the maximum heating temperature. It is indicated in the passport. But the presence of a thermostat in the heater makes this characteristic not the most important.
The fifth criterion is safety. In convection heaters, it depends on the maximum temperature. In infrared, only from the location, because it is impossible to direct streams of rays at a person.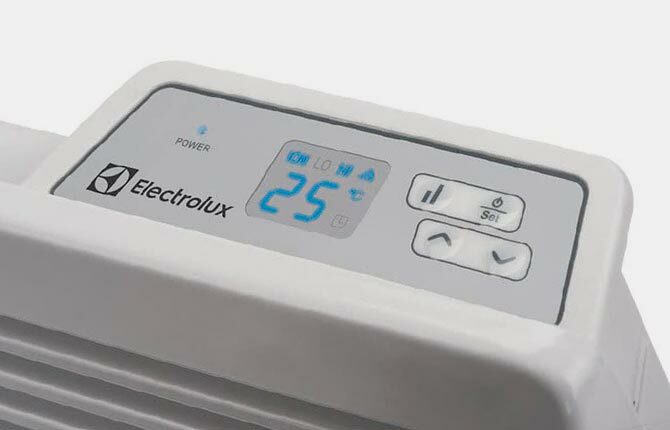 Which wall heater is better
Before choosing the best wall heater, you need to prioritize. If the main indicator is the saving of electric current consumption, then infrared models must be purchased.
If the heater will be used as the main source of heat, then convection is better oil heater.
If the task is to use the device additionally as an interior detail, then it is better to buy an infrared film one. Such models are produced in the form of paintings.
Top 10 wall heaters
It is difficult to say that one heater is better than another. Therefore, ratings are compiled, which include electrical appliances that have been evaluated by manufacturers, specialists and consumers. The reviews of the latter are important, because it is ordinary people who test wall-mounted heaters, buying them and installing them in their homes. Further TOP 10 or an overview of the top ten.
Ballu BIH-AP4-1.0
Infrared wall heater with a power of 1 kW, which can heat a room with an area of ​​10 m². Available in 3 colors: white, black, grey. It can be installed not only on the wall, but also on the ceiling.
Dimensions:
thickness - 4 cm;
length - 1.19 m;
width - 13 cm.
The device weighs 2.7 kg. Mechanical control. The panel is moisture resistant, so it can be used in wet rooms.
Additional benefits:
silent;
energy saving;
fast heating;
acceptable price.
Among the shortcomings - a click when cooling, the absence of wires in the kit, strong surface heating.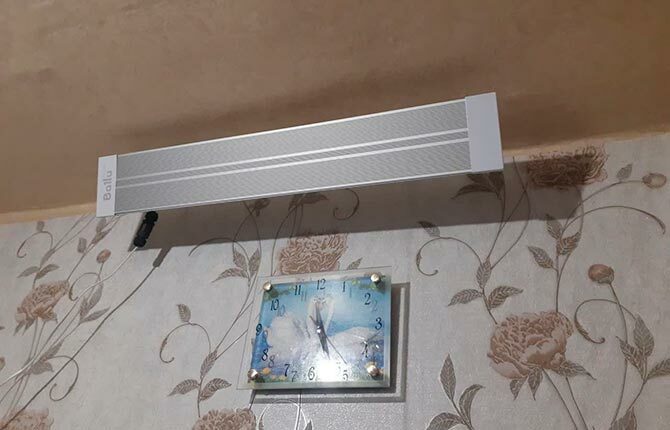 Hyundai H-HC7-20-UI291
Infrared wall heater, 2 kW from a well-known manufacturer. Installed to heat rooms with an area of ​​20 m². Moisture protection class - IP65. This is a high figure.
Dimensions: 680x110x72 mm. Weight - 1.8 kg. Hang at a height of at least 1.8 m.
There are several downsides:
wall heater expensive;
crackles during operation;
bright indicator light.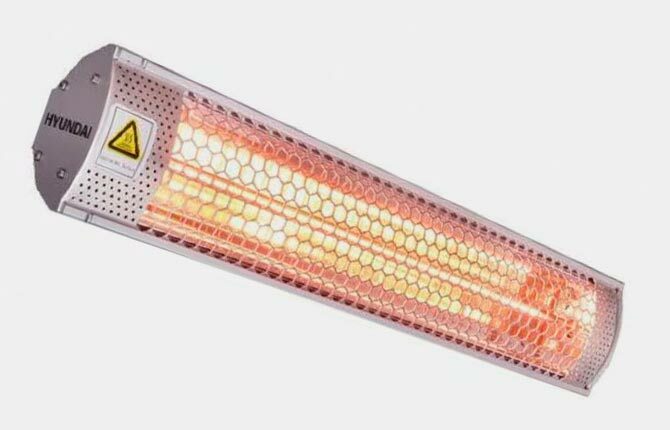 Nikaten NT 200
One of the low-power infrared type wall heaters. It's ceramic. Power - 200 W, so the heating area does not exceed 4 m².
The dimensions of the device are small:
thickness - 4 cm;
length - 60 cm;
width - 30 cm.
Advantages:
Efficiency 90%;
well resists power surges without reducing work efficiency;
silent;
economical - by 70% with a large number of models;
guaranteed service life - 25 years.
Of the shortcomings:
no temperature control relay;
no protection against high humidity;
one color is beige.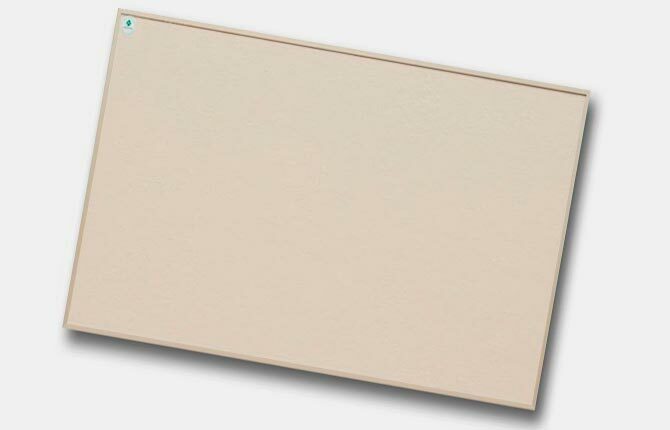 Ballu BIH-L-3.0
An infrared type wall heater in which the heating element is a quartz lamp. Power 3 kW, which will provide heat to an area of ​​up to 30 m². And other specifications:
Dimensions: 940x180x90 mm.
Weight - 4.1 kg.
Mechanical type of control.
The thermostat is mechanical.
Dust and moisture protection - IP24.
A big disadvantage of a wall heater is that it does not have tip-over protection.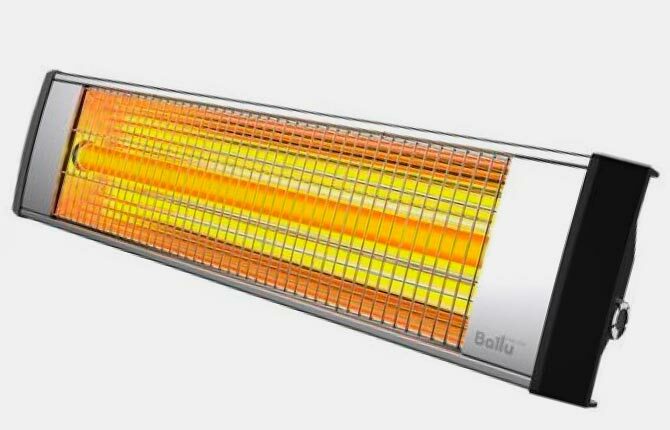 Electrolux ECH/R-1500 T
This is a convector-type wall-mounted heater with a power of 1.5 kW, providing heat for an area of ​​up to 20 m².
Dimensions: 560x400x91 mm. Weighs 3.2 kg. Type of control: mechanical and electronic - is selected at the discretion.
Pros:
high efficiency of electricity consumption;
the presence of a convector;
there is protection against moisture and overheating;
the heating element is a ceramic monolithic plate.
Minuses:
connection cord is short;
Mounting brackets not included.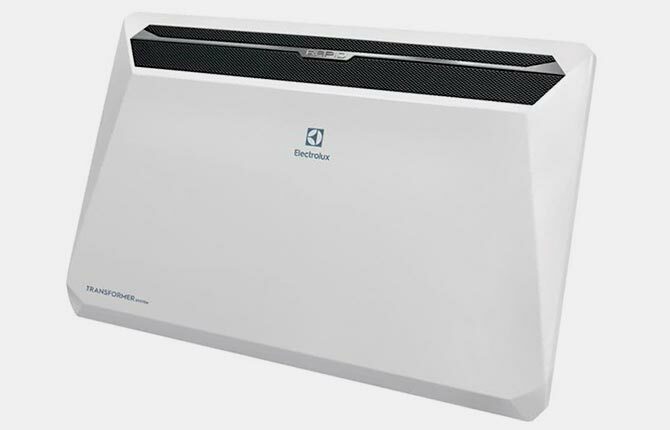 Noirot Spot E-5 Plus 1500
This is both floor and wall model. Wall bracket included. There are no legs - you have to buy separately.
Main characteristics:
Power - 1.5 kW.
Heating area - 20 m².
Electronic control.
Four operating modes.
Temperature setting screen.
Dimensions: 580x440x80 mm.
Weight 4.7 kg.
Presence of overheating and freezing modes.
Flaws:
high price;
the surface of the panel becomes very hot.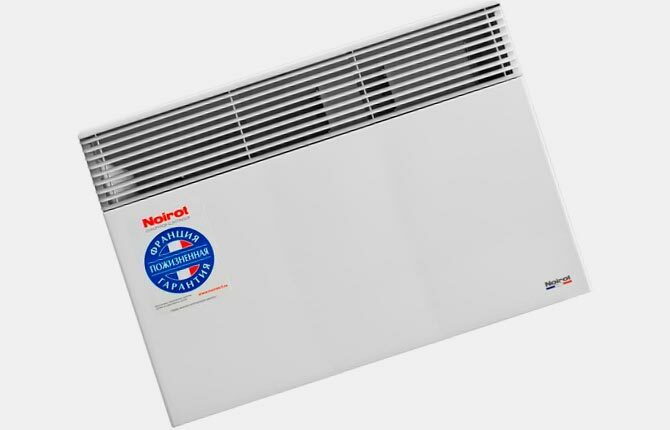 LVI Yali 05 080 21 230 13 1
Wall-mounted oil heater of two-row type, 1.25 kW. Dimensions: 800x500x105 mm. The Swedish manufacturer gives a 10-year guarantee that the device will work without problems.
Pros:
steel body, increased structural strength;
powder paint;
included are wall brackets;
frost protection;
there is an energy-saving mode;
electronic temperature control;
automatic shutdown.
Minuses:
there is no fork;
the heater is too thick, it catches the eye.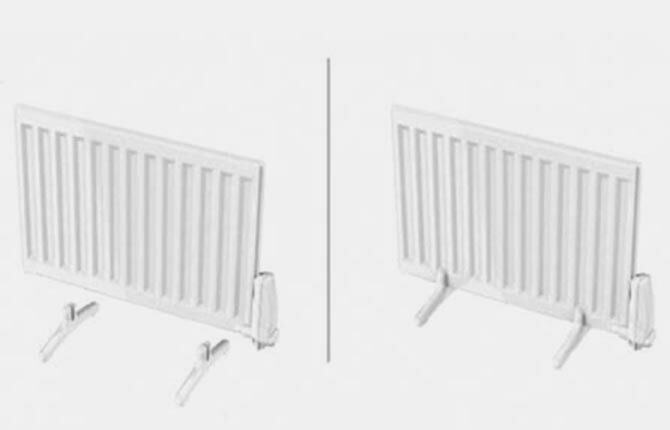 LVI Kaba 05 140 10 230 10 1
This is a standard wall-mounted oil heater with a power of 1 kW. If you buy legs, you can use it as a floor model. Color - white, powder paint. Steel body. Warranty - 10 years.
Dimensions: 1450x520x50 mm. Slim heater that will fit into the interior.
Advantages:
low noise level;
rollover protection;
frost protection;
the presence of an indicator.
Flaws:
high price;
no moisture protection.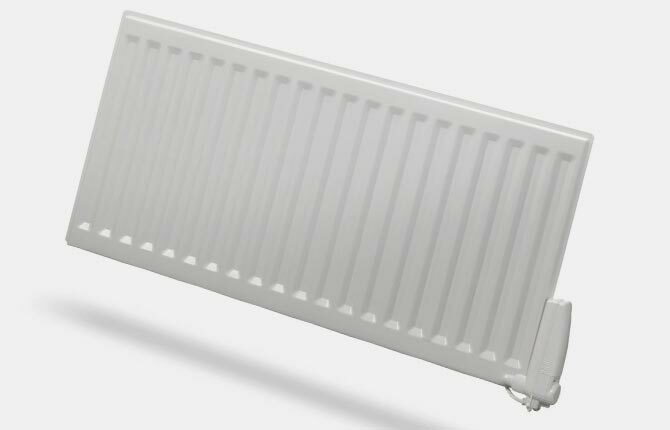 TeplEko 0.4 kW
This is a wall mounted quartz heater. White embossed panel 25 mm thick. This is enough to keep the device cool for a long time. Length 600 mm, width 350 mm. It heats up quickly enough - in 20 minutes. The maximum heating temperature is +95 degrees. Warranty - 5 years.
Drawback two:
The heater weighs 12 kg. Therefore, it can only be mounted on walls with a high bearing capacity.
Quartz panel is not the most durable. May break under impact loads.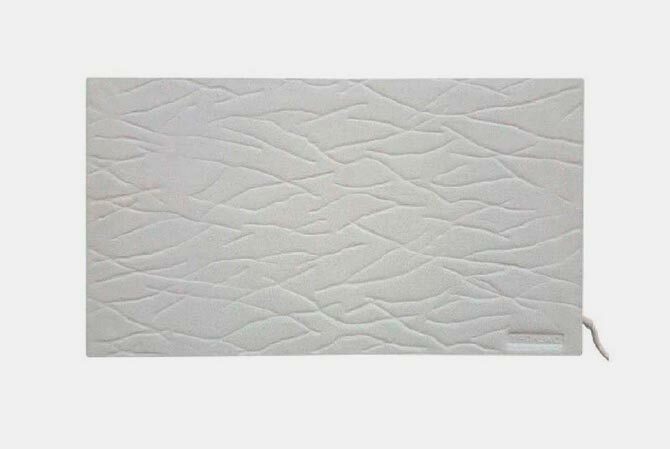 HEAT OF THE CRIMEA EO 448/2 STONE FIREPLACE
One of the film-type wall heaters depicting a stone fireplace. Images can be different, which simplifies the selection for the interior of the room.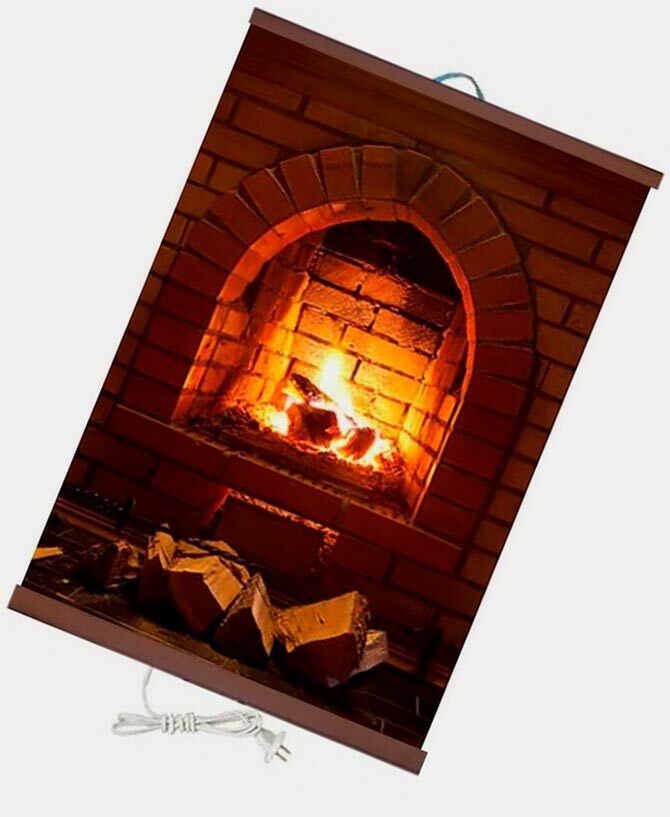 Heater power - 400 W. The device is used as an additional heat source to help the main heating system. Dimensions: 1000x600x1 mm. The thickness and weight of the heater are so small that the device can be hung on walls with even the smallest bearing capacity. For example, on drywall, screwing a self-tapping screw into it.
Surface temperature +65 degrees. This is maximum. The panel heats up in 3 minutes. Touching the film is safe.
Minus one - the warranty is only 1 year.
Except electric wall heaters in stores you can buy gas analogues. It cannot be said that the latter are several times more economical than the former. Just electrical appliances are universal, hence their popularity. All you need to install them is an outlet. If the power exceeds 2-2.5 kW, then you need to stretch a separate circuit to the switchboard with the installation of a separate machine and RCD.
FROM gas difficult. This is not only the wiring of a gas pipe using gas welding. This is the laying of the chimney, obtaining permission to install the unit. Creating a project for which you have to pay. Annual maintenance and visits to representatives of the gas service, who will draw up acts.
If we talk about electric wall heaters, then choosing the best one is not so difficult. The main thing is to choose the right power. The second is to decide what type of heating the heating device will be: main or additional. Further - at your discretion: dimensions, color, functionality, protection, and so on.
Dear readers, surely many of you have already purchased a wall heater. Indeed, outside the city, in dachas or cottages, many organize heating, taking into account the lack of gas. This means that electric heating devices are purchased first of all, where wall-mounted counterparts are out of competition today. This is stated by the statistics.
Share your experience - how did you choose a particular model? Write in the comments. Bookmark this article so you don't lose your ratings.