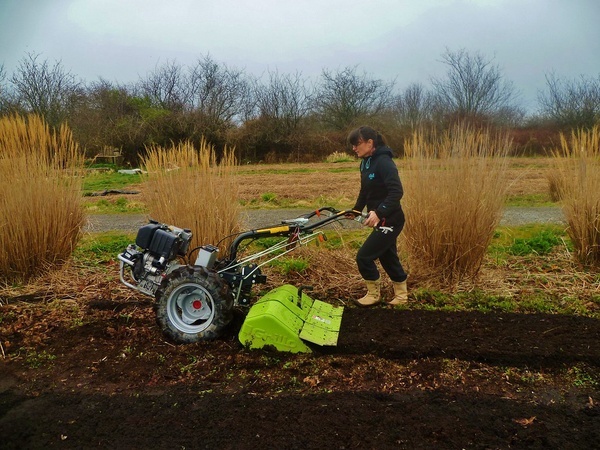 creativecommons.org
Do you have your own dacha, but don't want to hump on the field from morning to night to get a more or less good harvest? Tired of digging potatoes with a shovel and listening to your wife's words like: "It would be better if we went to Turkey than to fool our heads here!"? Then this article is for you, because we will talk about which walk-behind tractor is the most reliable, we will advise several models for you and tell you why this device is simply indispensable in a summer cottage.
The content of the article
The most powerful walk-behind tractor in the world? Us and unpretentious will do!

Top best walk-behind tractors - how to choose something from them?

garden machine engine

Machine weight

What features do the top 10 walk-behind tractors have?

Top 10 motoblocks in terms of reliability

Aurora COUNTRY 1100 MULTI-SHIFT

Daewoo Power Products DATM 80110

Neva MB2-B&S (CR950)

CHAMPION BC1193

Mobile K Ghepard CH395

PATRIOT Kaluga

Huter MK-7000

Aurora GARDENER 750

Aurora SPACE-YARD 1050D

RedVerg GOLIATH-2-7D

Aurora COUNTRY 1400 MULTI-SHIFT
The most powerful walk-behind tractor in the world? Us and unpretentious will do!
The main advantage of garden equipment is its versatility. The device at times simplifies the cultivation and assembly of garden and garden crops. Heavier models of walk-behind tractors have advanced functionality, but are also more expensive.
Plowing the land, planting crops and their assembly, shelf beds and other "rituals" will not be a heavy burden for the gardener, but will become quite a comfortable activity. If you think that the fastest walk-behind tractor can only work on the beds, you are deeply mistaken. Even in winter, when all the roads are covered with snow, the machine will simplify the task of clearing debris.
Among the huge selection of devices, you can choose a model by weight, functionality and processing area. The gearbox allows you to customize the machine for greater maneuverability and easy tasks.
It is worth noting the small disadvantages of this unit. The main one is the price. For an average family, you need to save up a month or two in order to purchase suitable equipment. Management is another "pitfall", because only strong men can handle it. Although some manufacturers have already come up with lightweight models for small tasks, even a fragile lady can handle this.
Other nuances of using the top of walk-behind tractors:
need constant maintenance;
additional nozzles are not included, they need to be purchased in addition;
you need to store the device in a large room like a garage or barn.
Top best walk-behind tractors - how to choose something from them?
The right choice is based on some parameters. As for walk-behind tractors, here you should pay attention to:
motoblock power;
dimensions and weight;
type of fuel used;
functionality;
manufacturing company.
All options are not arranged in a chaotic manner, but in order of importance - let's start with power and finish the selection from the reliability rating of motoblocks with a brand.
garden machine engine
The strength of the implement determines the rest of the settings. Engine power in motoblocks differs from 3.5-4 liters. With. up to 8-12 liters. With. You can also find an average version with indicators of 5-6 liters. With. Which model from the rating of walk-behind tractors is right for you? To answer this question, find out the area of ​​the cultivated area.
Small in strength devices will cope with the land of about 50 acres. The average capacity is enough for up to 1 hectare. For a larger area, the operation of a walk-behind tractor is unprofitable, and it will be easier to order tractor services. One of the most important tips: when buying one of the options, take the power a little more than you need. And suddenly come in handy!
Machine weight
Light models weigh up to 70 kg and have an engine of no more than 4 liters. With. Such units are powered by gasoline. Advantages: budget segment, compactness and ease of use. Disadvantages: not suitable for rough soil - too weak grip.
Medium - weight from 100 kg and strength up to 9 liters. With. They also feed on gasoline. Pros: a larger range of work and versatility of settings (you can put both a sower and a cultivator). Digging depth - up to 30 cm, area coverage - about a hectare. It can even be equipped with a trailer.
Powerful machines have a mass of up to 300 kg and more than 10 liters. With. in the motor. Here, only diesel is used as power. What stands out: can be equipped as a vehicle, large traction force, the processing area is higher than the rest, the installation of heavy nozzles.
What features do the top 10 walk-behind tractors have?
Funds are used for work in the country or garden. Plan ahead and keep a few things in mind:
how much land will be under cultivation;
soil density;
how often the walk-behind tractor will be involved in the work;
functions assigned to the unit.
The more complex the tasks, the more the apparatus is needed. It is better to buy a more powerful car than to pull it out of the loose dirt in the field later. Do not forget about overload - a light device will not withstand harsh working conditions. The choice of model also depends on the type of soil: a light device is enough for black soil, and you will have to fork out for clay soil.
One more thing: do not choose the one that has the most nozzles from the rating of medium walk-behind tractors. You still won't use even half, and the money you save can be spent on other things.
Top 10 motoblocks in terms of reliability
Aurora COUNTRY 1100 MULTI-SHIFT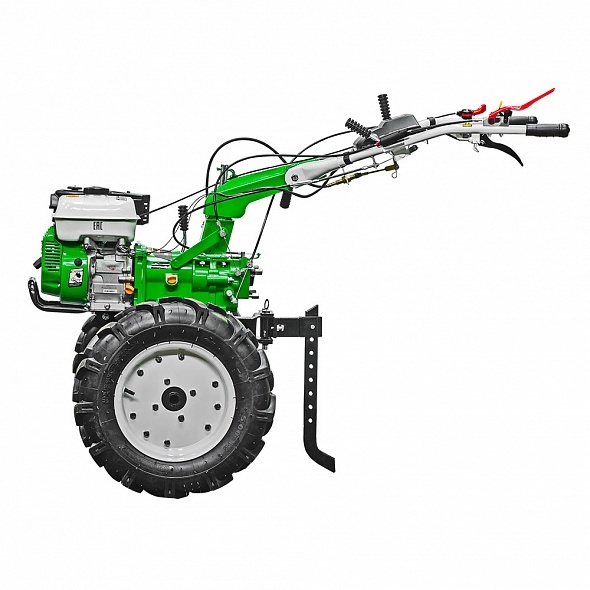 creativecommons.org
Opens our top 10 best walk-behind tractors Aurora COUNTRY 1100 MULTI-SHIFT. 4 forward and 2 reverse speeds, cast iron parts - this is what distinguishes the model from competitors. Motor - Chinese analogue of HONDA GX 210; very reliable device, for which it is easy to find spare parts.
All controls are located in the steering part, the manufacturer even put a box under the tools - everything is at hand, and you do not need to constantly run to the garage. The processing strip is 110 cm.
You will have to tinker with the nozzles, because the company does not really show off its own. Although all sizes are designed according to standards, the main thing is to find a suitable similar model from which you can "borrow" additions.
Daewoo Power Products DATM 80110
Today this is an attractive offer: light weight (86 kg), low price in the segment. The engine of own production on 8 l is established. With. The motor came out very successful, but requires painstaking maintenance. The gearbox is also not deprived of protection and durability.
To reduce the cost of the model, the manufacturer moved production to China and installed a simple gearbox - 2 speeds each. The transfer is made in the good old "belt" way.
Neva MB2-B&S (CR950)
The basis is the Briggs & Stratton CR950 engine; 6,5. l. With. for 91 kg of the apparatus as a result - but it could have been more.
The gearbox is even more primitive than the previous one: 2 forward and 1 back. The difference is a convenient turning system; you don't need to buy any accessories. Processing width - 126 cm. Although the model is not particularly heavy, it is comfortably controlled on tenacious soils.
CHAMPION BC1193
The design is no less simple than it seems - a 10 hp engine. With. G270HK, which has everything in sight and is easy to maintain. The mass of the walk-behind tractor is 147 kg. With a gearbox similar to the previous version, the car loses on the site.
Chinese "Champions" are not particularly distinguished by the level of fasteners, but the price of equipment is not so high. At the same time, you get a stable engine and good traction. There is a significant drawback - read the instructions for use, because there are whole "dances with a tambourine".
Mobile K Ghepard CH395
The price of the Mobile K Ghepard CH395 indicates that this is "not a toy for everyone." This is understandable, because few manufacturers provide a separate axle under the chassis.
The transmission is also impressive: 7 speeds (4 forward and 3 reverse) and a 10 hp steel engine. With. allow you to literally be "Schumacher" in the garden - 180-degree turns will become a reality.
The cutter drive module is mounted on a separate unit. Other modules are purchased separately. But with a full set of walk-behind tractors, you can dig up a garden, mow the grass, and clean the snow.
PATRIOT Kaluga
"Kaluga" has a mass of 86 kg (previously produced 10 kg lighter). The main difference from previous models in the company's lineup is that the first gear is fully draft gear, realizing the power of the engine for 208 cubic meters and 7 liters. With.
In the kit you get a pneumatic chassis and cutters mounted with a hexagon. Unfortunately, there are no transport wheels. Processing width - 85 cm. The company decided to reduce the cost of the model range by removing several nozzles and "cheating" with the transmission part - and this is how the Patriot turned out.
Huter MK-7000
It is based on a draft engine for 7 horses. If you want to attach a trailer to it - better not try. Although, if you have enough knowledge and tools, you can do a rework, it's just that the manufacturer did not take this setting into account during production.
The processing width with a mass of 72 kg is as much as 100 cm - you will need to buy additional weights in order to somehow maneuver on the site. The clutch has 2 belts. The transport wheel was replaced with portable handles - a very strange decision.
Aurora GARDENER 750
The most budgetary and lightest unit in the segment (only 52 kg). The transmission is primitive - 2 forward, 1 back. Immediately put weights on it, because the walk-behind tractor will constantly fall out, and you will not get a good grip.
A significant drawback: when turning the steering wheel, the gear lever remains in place. Therefore, it is very inconvenient to reach for it when working.
For its price - very good. Especially if you need something reliable for a small price.
Aurora SPACE-YARD 1050D
Diesel option in the manufacturer's segment. Power is not outstanding - 5.4 liters. sec., but the torque and weight of 147 kg provide impressive grip on the ground and good maneuverability. The engine has an electric starter.
Of course, a small force does not give many functions, but for basic tasks it will do - plowing the soil will be much easier than without it.
RedVerg GOLIATH-2-7D
A simple transmission and a 7-horse Loncin BS178F engine reveal all the possibilities of an inexpensive device. The design strongly resembles the "Champion", which we have already dismantled earlier - the same process of adjusting the gearbox. Transmission - completely on gears, which ensures the reliability and durability of the equipment.
Aurora COUNTRY 1400 MULTI-SHIFT
A real heavyweight on a cloned Honda engine - 162 kg and as many as 13 horses inside. The price leaves much to be desired - which you will not do for the sake of good maneuverability and grip.
The cast iron gearbox is no problem - just add oil. The main drawback is the "harmful" carburetor, which does not work very well in cold conditions. The device is purely for the spring-summer season.